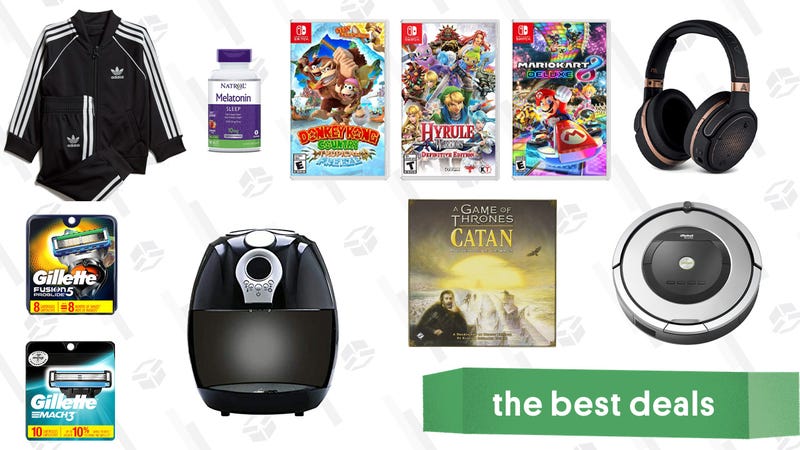 Best Deals of the Day
The best deals from around the web, updated daily.
A stacked air fryer combo , Nintendo Switch digital games , and melatonin gummies lead off a Wednesday's best deals.
Best Tech Deals
You'd be forgiven if you automatically dismiss Lenovo notebook as a run-of-the-mill, garbage sub-$500 laptop, but you'd be mistaken. Amid all the vanilla specs (4GB of RAM, 1TB HDD, i7 processor, etc.) from this $460 15" laptop is something pretty cool: Optane Memory.

Gizmodo's written quite a bit about it. Here's what Alex Cranz said about Intel's tech:
Optane Memory ... is much cheaper—think $30 for a stick, and works in tandem with your storage drive, remembering commonly loaded files, like game textures or software libraries, and loading them faster than your storage drive alone ever could. In our tests the Optane memory paired with a traditional HDD, was two to three times faster than without the memory.
For the user who only uses their laptop for browsing the web, Netflix and occasionally catfishing someone in Des Moines, this is a solid laptop and quite a deal to boot.
---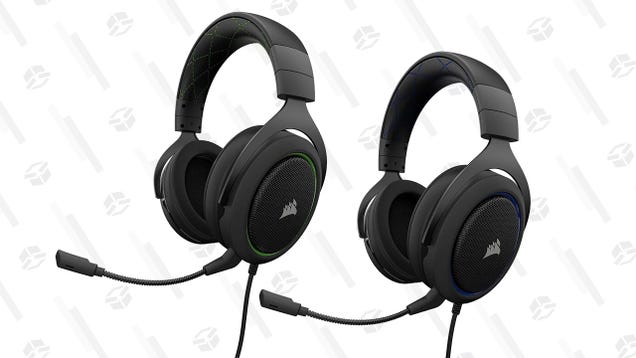 Right now, Corsair's HS50 gaming headset will cost just $40 in Xbox green and PS4 blue.

These cans feature easily accessible volume and mute control, plus a removable mic, which is helpful if you want to use them as regular headphones on the plane.

This is the best price we've seen on these particular units. The HS50 often hovers around $10 more normally, so this is a solid bargain on a very capable gaming headset.
---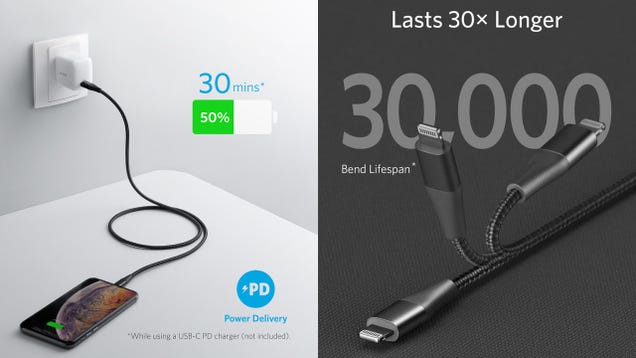 Apple only started allowing third parties to make USB-C to Lightning cables a few months ago , butAnker's already brought the fast-charging technology to their best cable : the PowerLine+ II.

The cable combines the best stuff from all of Anker's premium charging cables, including a nylon-braided wrap, metal connectors, a 30,000 bend lifespan, and even a lifetime warranty if it somehow does ever break. And since it's USB-C, it allows you to charge your iPhone at the fastest possible speeds from any USB-C PD charger: from 0% to 50% in just 30 minutes.
Just use promo code ANKERC2L to get the deal. Valid on black or red .
---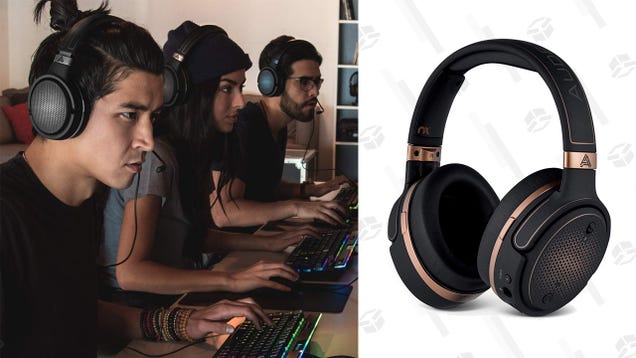 These Audeze Mobius headphones are probably the most sophisticated 3D audio headphones we've ever seen, and right now they're $100 off.

These don't only output 3D audio but also use head tracking to create an experience you just can't get from any competitor products.
Better still, you can choose between a wireless Bluetooth and wired connection. So it's compatible with PC, Xbox and PS4. Mobius also comes with a flexible and detachable mic, which is helpful if you want to use these as standard headphones.
Take your pick of Copper , Carbon or Blue colors, but make sure to act fast. Like any Gold Box, these will disappear at the end of day, or until sold out.
Best Home Deals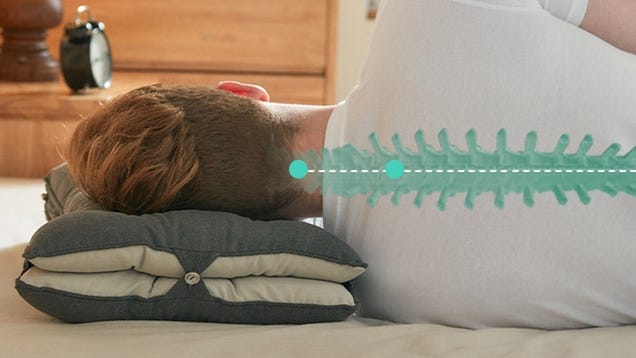 I share a bed with one human, three cats, and one eight-pound dog, so any time I see something that promises better sleep, I jump on the chance to try it. At the ripe old age of 28, I've begun to experience neck pain when sleeping. It is most often correlated with falling asleep with a bun in my hair, but some nights, I managed to tweak my neck just from sleeping at the wrong angle. When I saw the Dullo Pillow, I figured it would be a great product to try, and if not, I would at least have another pillow to add to my insane collection.
The Dullo Pillow is a cervical pillow that is advertised on Kickstarter to be unlike any other pillow. It is designed to cradle your head and neck, while evenly distributing the weight. The cradling sensation is meant to help you fall into a deep sleep, which will then keep you from having restless movement throughout the night. One side of the pillow has a crown crater for back sleepers, while the other side has an arch for side sleepers. The pillow has a microfiber filling, which was designed to ensure the best blend of soft and firmness. It also has ventilation, to keep both sides of the pillow cool.
Like I said earlier, my bed is very crowded. The overcrowding can cause a lot of restlessness at night. Especially when my dog and I are fighting for premium pillow real estate. The Dullo Pillow really did help cut down on restless movements, primarily (I think) because I got to lay on my back. I never used to sleep on my back until I had surgery a few years ago. The Dullo Pillow's center crater really did feel like it was perfectly molded for my head. Because I was able to sleep comfortably on my back, my animals had better areas on my body to sleep on. Rather than sleeping on my hip, my cat slept on my stomach through the night. I found myself waking up less frequently after sleeping with the Dullo Pillow. When using the pillow, I didn't feel like I needed to keep repositioning my head to get comfortable. If I did move, I was able to comfortably settle right back into the same position as before and fall back asleep.
The Dullo pillow is on Kickstarter, with preorders starting at $69. Pillows are expected to ship in September 2019.
---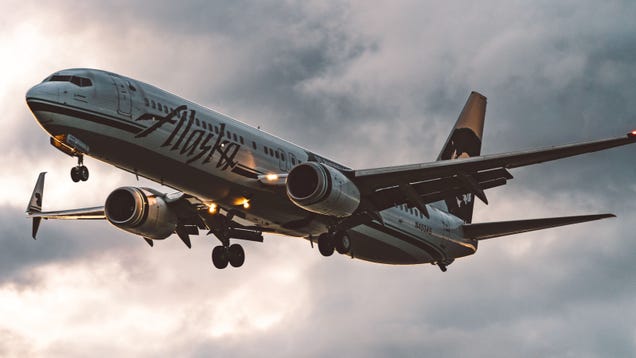 Summer is literally days away, so, why are you dragging your feet about planning a vacation? Alaska Airlines 3-Day Sale gives you no excuse not to finally book that trip! Roundtrip airfare starts at $77, while one-way tickets start at $39. If you're looking to explore different parts of California, you can get that $77 airfare when traveling from San Jose to San Diego. If you're looking to make a trip cross-country, New York (JFK) to San Jose tickets start at $257.

Flights must be booked by June 13, 2019, at 11:59 pm PDT. Travel must take place between September 4 – November 6, 2019, though some end-of-August dates might be available in this sale.
---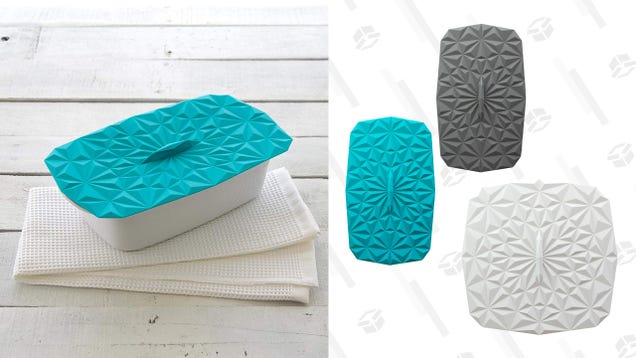 These one-size-fits-most GiR lids self-seal to fit pretty much any bowl, pot, Tupperware, etc. and right now they're selling for their lowest prices ever.

Normally selling for about $20, these lids create a mini vacuum (after you push down the middle and let the air out) in the containers they are placed in and help you preserve your food.
Get yours before they sell out... and there's a good chance of that.
---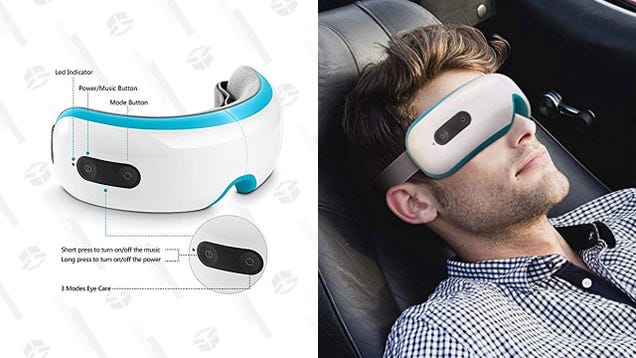 Have you ever been so tired, you literally could feel it in your eyes ? There's a reason we get undereye bags when we're not getting enough sleep. If you're always tired after work, the Breo iSee Electric Eye Massager can help relieve a bit of stress. The adjustable mask has three types of eye massages: air pressure, gentle vibrating massage, and heat compression. Right now, when you clip the 25% off coupon, you can get the Breo iSee for $75.

---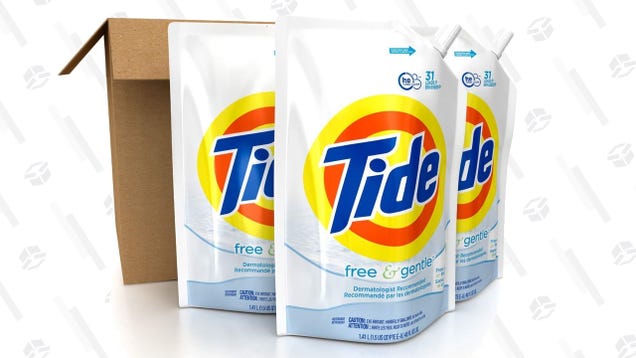 For a limited time, Amazon will sell you three pouches of Tide HE-compatible Free & Gentle laundry detergent (totaling 144 ounces or 93 loads) for just $12 (or $13 if you don't use Subscribe & Save).
These pouches are designed basically as refills for plastic Tide bottles, but as long as that doesn't bother you, this is a fantastic price-per-ounce for any detergent, let alone name brand. This bundle normally sells for $18, and today's deal is the best we've ever seen by about $2.

---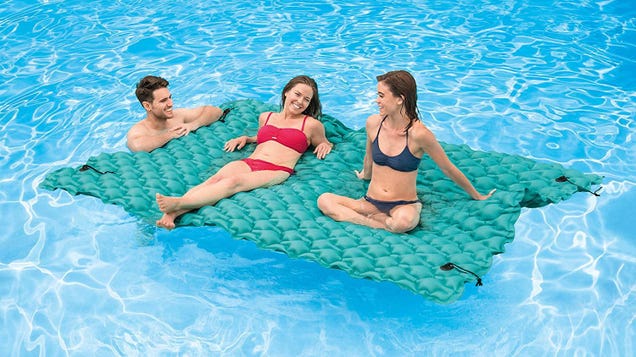 If you have a pool, there is no reason not to have this giant inflatable floating mat . You and your friends (or family) won't need to fight over the one float whenever you're in the pool anymore. According to reviews on Amazon, some daring adults were able to fit eight grown people on the 114" x 84" mat. Some owners preferred to get this mat for their fur babies, one reviewer was able to get three of their dogs on it in the pool. You can get the Intex Giant Inflatable Floating Mat for about $7 off right now.

---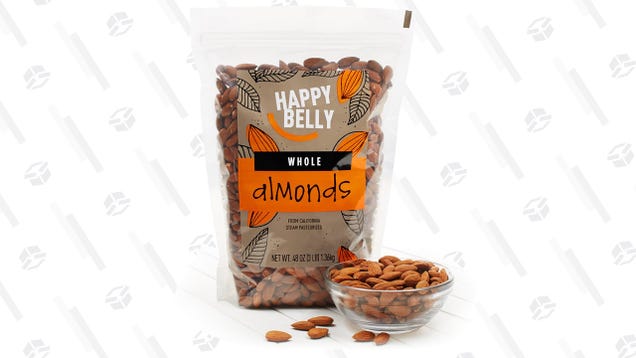 Almonds are filling, delicious, and relatively nutritious, and Amazon will sell you a three pound bag of them for an all-time low $13 today.

By my back of the envelope math, there should be about 1,000 almonds in the bag , or what President Obama might call a four month supply.
---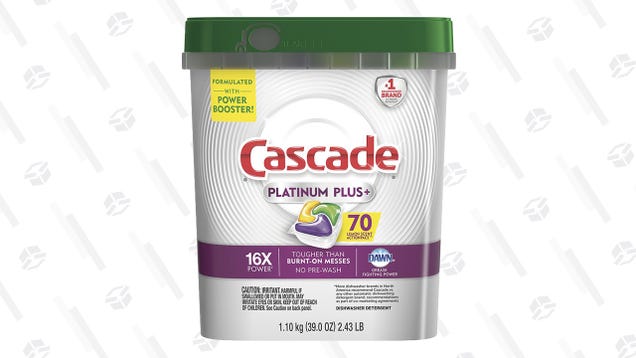 You need dishwasher tabs anyway, so you might as well get them on sale. Clip the $5 coupon and use Subscribe & Save to get 70 Cascade Platinum Plus+ tabs delivered from Amazon for just $14. Just remember to cancel the subscription if you don't want to keep receiving them.
---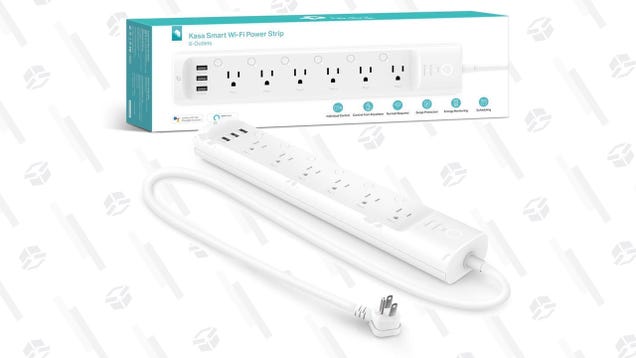 Tired: Smart plugs.

Wired: Smart power strips.
This one from TP-Link has six outlets that you can control independently with your phone, Alexa, or Google Assistant. Each one also has built-in energy monitoring, so you can see how much power your various gadgets are using. And as an added bonus, you also get three USB ports for charging your mobile devices.
It's been down to $55 a couple of times in the past, but $65 is a solid deal if you want to add some smarts to a lot of gadgets at once.
---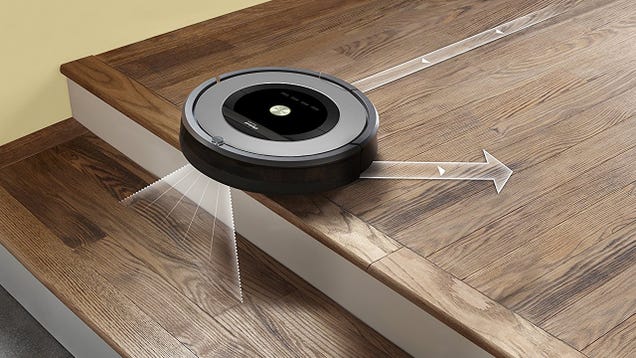 Amazon discounting the powerful Roomba 860 down to just $270 for a refurb. While it is still quite a bit more expensive than, say, the Eufy RoboVac 11 , it boasts up to five times the sucking power of the comparable Roomba 650, so if you have kids or pets that tend to track in a lot of dirt, it might be worth the premium.

You can schedule a cleaning 7x during the week and it'll navigate around furniture and avoid stairs. This Roomba will automatically dock and recharge, too, which is super convenient.
Just remember that like all Gold Box deals, this price is only available today, or until sold out.
---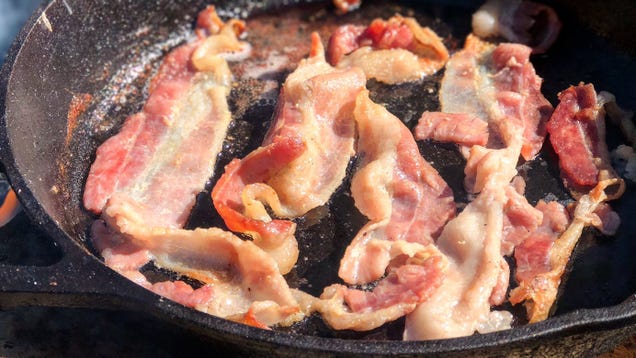 Butcher Box's most mouth-watering annual offer is finally back: Free bacon in every box for the life of your subscription. Bonus bacon. Forever.

Butcher Box ships grass fed beef, heritage grade pork, and free range chicken right to your door for less than $6 per serving, and if you sign up now for a limited time, you'll get a FREE pack of uncured bacon in every box for the life of your subscription. Think of all you could do with an extra pack of bacon every month.
Your bonus come bundled with any of Butcher Box's pre-selected boxes, which are priced at $129 for 24 servings, or $238 for 48 servings, which can be delivered every 30 or 60 days. For a nominal surcharge, you can also build a completely custom box, with your choices of proteins.
Note: You'll have to enter your email at the beginning of the process. I know, it's annoying.
---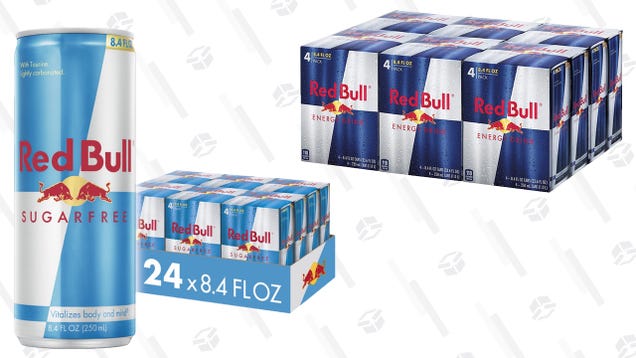 Energy drinks will probably kill you, but if you can't go without the pick-me-up, Red Bull is probably the least disgusting option out there. And with this cheapest-ever Amazon deal , it's also one of the most affordable.

24-packs of both the standard and sugar-free formulas are on sale for just $21, but to get the deal, you'll need to:
1) Use Subscribe & Save (you can cancel after your order ships)
2) Clip the 10% coupon
3) Receive an additional discount at the final checkout screen. No promo code required.

Best Lifestyle Deals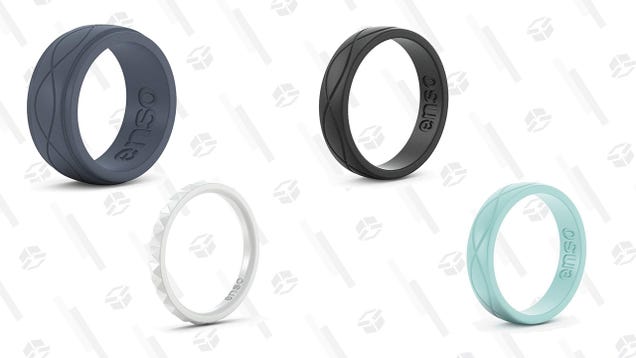 Do you have a summer vacation planned where you'll be having fun in the sun? If you don't want to risk losing your expensive engagement or wedding ring in the sand, you can get yourself a silicone wedding band. Your finger won't feel naked if you snag 25% off Enso Rings on Amazon right now, just clip the coupon. You can choose from an assortment of men's and women's styles and colors, like white , pink sand , obsidian black , turquoise , slate , misty gray , and more.

---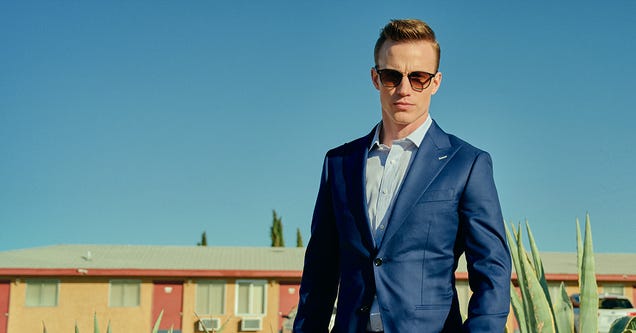 $299 Custom Suits | Indochino | Promo code KINJA19
Buying a suit off the rack is almost always a disappointing experience. It never fits quite right, the selection is limited, and it always feels like you're spending way too much for a garment that you don't really love.

Indochino addresses all of these shortcomings with custom tailored suits (and more!) that are cut to fit your specific body, and that allow you to tweak all of the little details and accoutrements to your liking. So today, head over there and design totally unique suit that's built just for you for just $299 with promo code KINJA19.
That code will work on any of the suits on this page, and includes all of your customizations and shipping. If you get it and it doesn't fit quite right, you can even go into an Indochino store to get it adjusted or remade for free, or even get reimbursed after taking it to another local tailor if you don't have an Indochino store near you.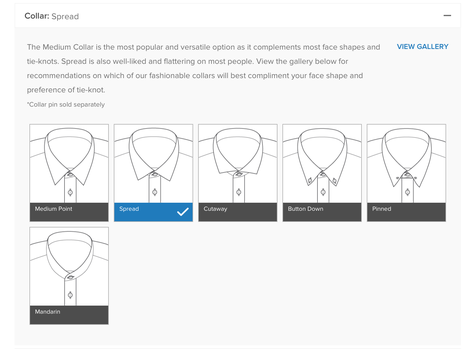 Just about the only thing it doesn't include is a shirt to wear underneath, and they've got you covered there too with a $59 shirt of your choice with promo code KINJA19. And just because it's "just a shirt" doesn't mean you don't get a ton of customizations here too. You can configure it with six different collars, multiple lengths (say, if you want to wear it untucked), short sleeved or long sleeved, and more.
---
Before you hit the trails on your outdoor adventures this summer, stop by Backcountry's sale on camping and climbing gear. Right now, a selection of full-priced items, including tents, helmets, ropes, backpacks, and much, much more, have set up camp in this 20% off promotion. Just use promo code TAKE20JUNE to take advantage of the discount, and you'll be ready to head out into the wild blue yonder.

---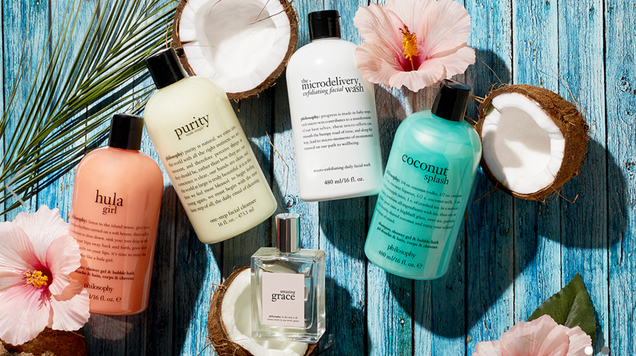 It's my personal philosophy that you should try out Philosophy's line clean, effective, and honestly, amazing smelling products, and there's never been a better time to do that than during the brand's June Swoon Savings event. So use promo code 30OFF to take advantage of 30% off sitewide, and pick up any product that catches your eye, like perhaps the acclaimed Purity Made Simple Pore Extractor Face Mask or the fresh floral Amazing Grace fragrance spray. No matter what skincare philosophy you abide by, you can't go wrong with this deal.

---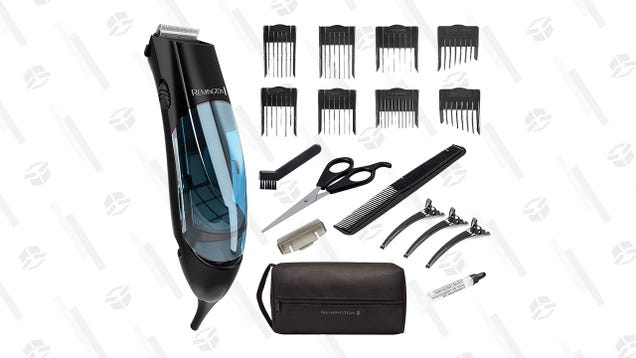 If you perform haircuts on your family members or even yourself, this Remington haircut kit makes cleanup easier by incorporating a built-in hair vacuum. What a concept!

Of course, you also get six different length combs, right and left taper combs, scissors, sectioning clips, a carrying case, and everything else you need to open your own bathroom salon. It's down to an all-time low $27 on Amazon today, and I bet you've spent more on a single haircut.
---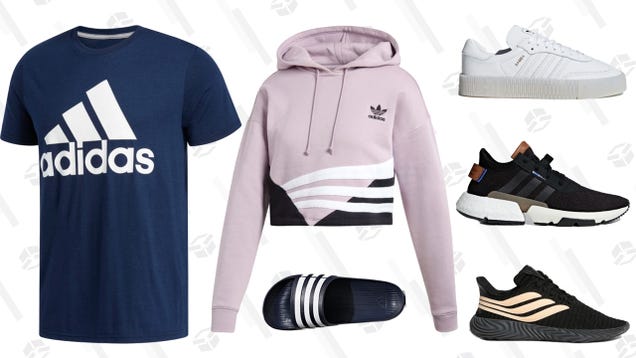 Right now, Adidas is running a sale that's sure to get your blood pumping. In celebration of their most loyal customers, the retailer is taking 30% off the purchases of their Creators Club Members (it's free to sign up). So score a new pair of kicks or some brand new workout clothes for the season, since this sale's only happening through Sunday.

---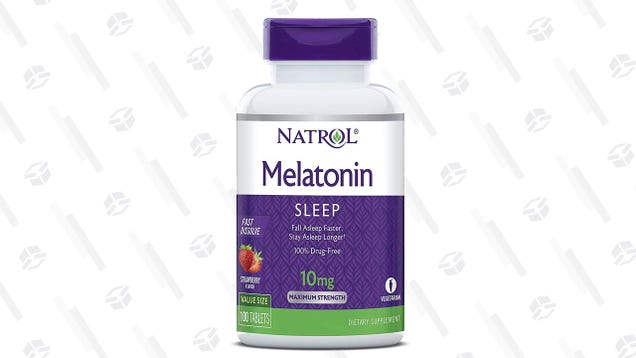 For nights (or redeye flights) where you just can't get to sleep, melatonin supplements are a natural, effective way to help you get some shuteye.

Natrol is one of the leaders in the space, and their fast-dissolving (and thus fast-absorbing) tablets are cheaper than ever before on Amazon today, at just $6 for a jar of 100. Just don't sleep on this deal, we don't know how long it'll last.
---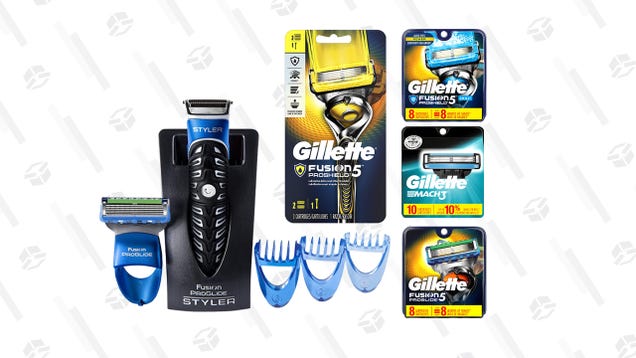 Today only, Amazon's shaving the list prices of several Gillette razor bundles. Choose from Fusion5 Pro Glide, Fusion Power, Pro Shield, and Mach 3 refills.

Sadly, there don't seem to be any clippable coupon with these packs. But they're still great discounts, and better prices than what you'd find in your local grocery store.
This is a great opportunity to save on stuff you need to buy anyway. But remember, this is a Gold Box. So these prices will only stick around for a day, or until sold out.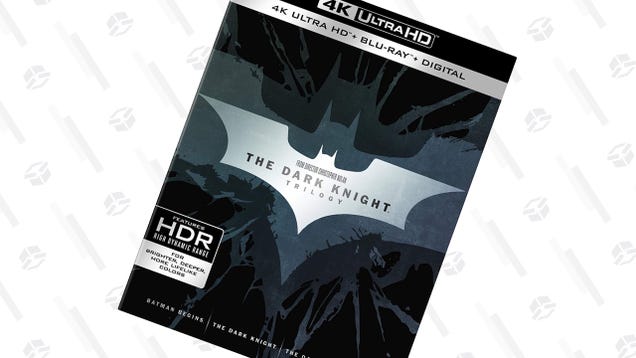 You don't need Bruce Wayne's fortune to afford the Dark Knight trilogy today. This UHD Blu-ray set includes all three Chris Nolan Batman films in 4K, along with regular 1080p Blu-rays, plus digital copies. At $43, the box set never been cheaper.

Note: It's currently listed as out of stock, but you can still order at this price, and Amazon will ship it when they have more.
---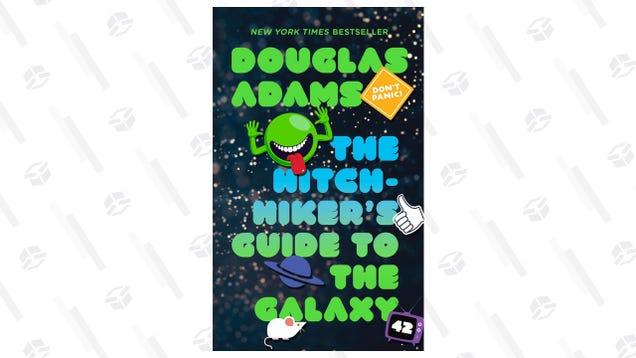 The Hitchhiker's Guide to the Galaxy on Kindle is not the answer to life, but it is the answer to "what's the best three dollars you'll spend today?" Just don't forget your towel.

Seconds before Earth is demolished to make way for a galactic freeway, Arthur Dent is plucked off the planet by his friend Ford Prefect, a researcher for the revised edition of The Hitchhiker's Guide to the Galaxy who, for the last fifteen years, has been posing as an out-of-work actor.

Together, this dynamic pair began a journey through space aided by a galaxyful of fellow travelers: Zaphod Beeblebrox—the two-headed, three-armed ex-hippie and totally out-to-lunch president of the galaxy; Trillian (formerly Tricia McMillan), Zaphod's girlfriend, whom Arthur tried to pick up at a cocktail party once upon a time zone; Marvin, a paranoid, brilliant, and chronically depressed robot; and Veet Voojagig, a former graduate student obsessed with the disappearance of all the ballpoint pens he's bought over the years.
Best Gaming Deals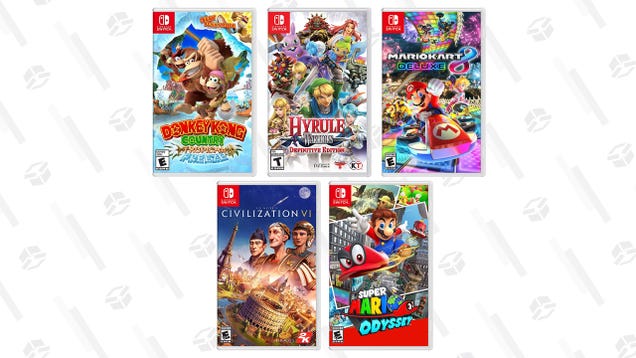 Save big on Mario Kart 8 Deluxe , Donkey Kong Country: Tropic Freeze , Hyrule Warriors: Definitive Edition , Super Mario Odyssey and Sid Meier's Civilization VI  digital codes. These are about $10-$20 off their regular price and an excellent deal if you're going the digital route .

---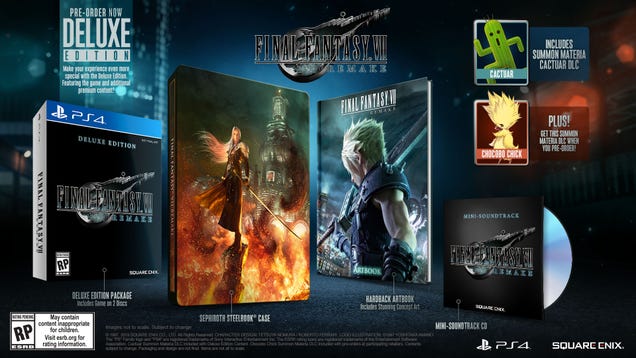 Final Fantasy VII Remake is finally out next March (along with, uh, just about every other video game?), and Walmart's currently offering a $10 discount when you preorder the Deluxe Edition.

That includes the game, a steelcase, an art book, a sound track, and some exclusive DLC. With the discount, your price only comes out to $10 more than the standard edition, so if you were going to pick up the game anyway, this is worth considering. Kotaku got a hands on with the game (and details about its new combat system ) at E3 this week if you're on the fence.
---
If you're getting bored of trading wheat and sheep back and forth, Game of Thrones Catan is a completely new take on the classic party game:

The Brothers of the Night's Watch recognize you as a natural leader as you struggle for promotion within their ranks. You hope to gain recognition by improving infrastructure in the area south of the Wall known as the Gift. Drawing sustenance from this unforgiving landscape offers enough challenges, but you must also man and defend the Wall against the onslaught of Wildlings fighting their way into Westeros to escape the horrors that awaken in the North. Build, defend, and rise above your brothers to become the new Lord Commander. But be wary—the north holds many dangers, and winter is coming.
In case it wasn't clear, the board has an actual, physical wall. How cool is that? $41 is the best price Amazon's ever listed , so get this deal before its watch comes to an end.
Tech
Storage
Power
Audio
Home Theater
Computers & Accessories
PC Parts
Mobile Devices
Photography
HOME
Home Goods
Smart Home
Kitchen
Tools & Auto
Travel
LIFESTYLE
Apparel
Beauty & Grooming
Camping & Outdoors
Fitness
Movies & TV
Books & Comics
Gift Cards
GAMING
Peripherals
PC
PlayStation 4
Xbox One
Nintendo
Toys & Board Games
DEALS YOU MAY HAVE MISSED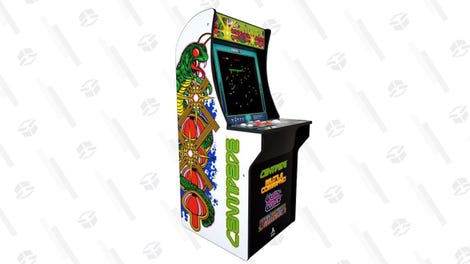 An Arcade1Up 3/4 sized arcade cabinet would be a perfect Father's Day gift for the geeky dad with some extra basement space, and you can get the Centipede cabinet (which also includes Millipede, Missile Command, and Crystal Castles) for just $175 today, complete with a bonus riser that brings the controls and screen up to a more ergonomic height.

The machine includes original Cabinet artwork, a faithfully recreated joystick and button arrangement, and a 17" color display. The only thing they didn't recreate from the original arcade machine? The coin slot.
---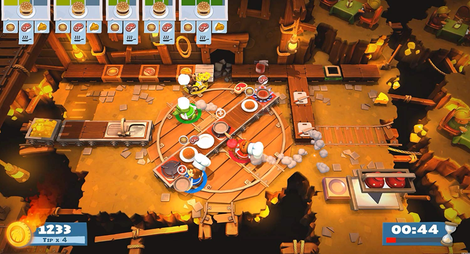 Overcooked 2, the sequel to the friendship forging and/or destroying Overcooked, is discounted on Switch for the first time . Pick up a physical copy of the game for just $30, down from the usual $40.

Alternatively, the digital code is selling for $5 less. Protip: This same deal is available on the eShop, but when you redeem a code from Amazon, you'll be credited for Nintendo Gold Coins as if you paid full price. If you buy from the eShop, you're only credited for the price you actually paid.
---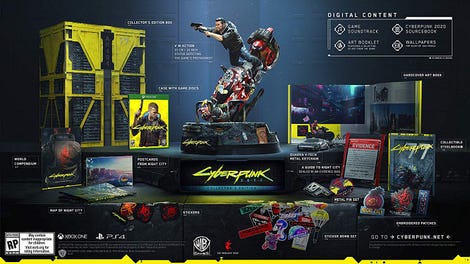 Cyberpunk 2077 , from the folks that brought you The Witcher series, stole the show in the opening weekend of E3, if only because freakin' Keanu Reeves is in the game , and you can preorder the bonkers-looking Collector's Edition for $250 right now from Amazon and Walmart.

That gets you the game in a collector's edition box, a 10" statue of the protagonist, a soundtrack, a map, a keychain, stickers, pins, a world compendium, and more. The game is due out April 16, 2020, but there's no telling how quickly the Collector's Edition bundles will sell out.
---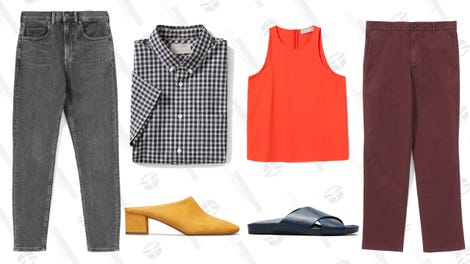 Everlane's Choose What You Pay section (which, for the unindoctrinated, allows shoppers to choose from three different, discounted price points for an item) is always a good source of savings on some of the brand's coveted, stylish basics, but it's usually pretty limited. That is, until now.

Everlane Biggest Choose What You Pay Summer Event is on, and sections for both men and women have been flooded with a ton of new overstocked inventory, including a selection of coveted Everlane denim and shoes for the ladies and a range of chinos for guys. This is likely the last you'll see of these styles, so take your pick before they sell out, as many of Everlane's offerings are wont to do.
---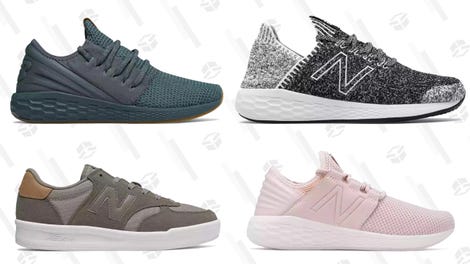 In the market for some new sneakers for summer? Good thing New Balance's Semi-Annual Sale is on now, with over 500 discounted footwear styles (plus 500 on-sale apparel items, too) marked down by up to 50%. And bonus: You can snag an extra 15% off your Semi-Annual Sale purchase with promo code SALE19, plus free shipping on orders of $50 or more. Just be sure to tie up any loose ends on this deal before it runs out.

---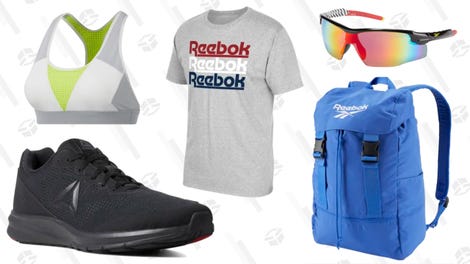 Whether you're celebrating a grad or a dad this month, Reebok wants to help you gift them the best gear. Right now, save 30% sitewide from the activewear brand with promo code DADGRAD, and load up your loved ones with workout-ready sneakers, apparel, and accessories galore. Just be sure to shop soon, before you miss out on that gold medal in gift giving.

---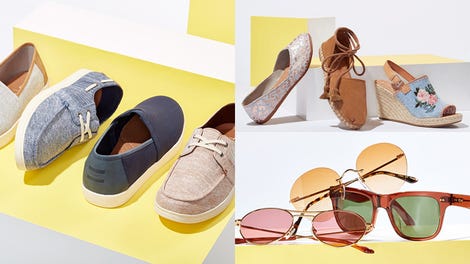 Step into summer with some new TOMS on your feet. Right now, Nordstrom Rack is marking down TOMS for men, women, and kids, including slip-ons, flats, sneakers, espadrilles , and more. Not to mention, there's a selection of TOMS sunglasses on sale as well. There's sure to be a style to suit your summer shoe needs, so shop now before it sells out.

---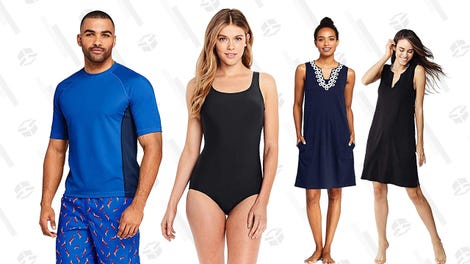 Today only, you can save up to 50% Lands' End apparel on Amazon. If you're shopping around for a new, springtime look, both men's and women's styles are discounted.

Prices start at about $10, so outfit yourself and your entire family in the stylish summer weather wardrobe you all deserve. Just remember, these prices will only stick around for the day or until sold out.
---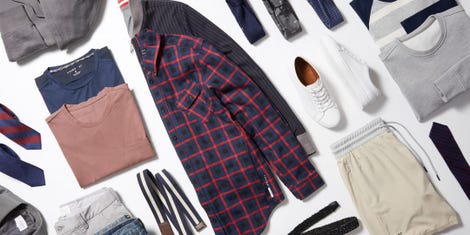 If you don't have the time or inclination to shop for your own clothes, The Menlo Club will send you a couple of surprise products from Five Four, Grand AC, or New Republic each month, in your size, for $60. And for a limited time, you can get $35 off your first order, plus a free pair of shoes and socks.

When you sign up for a new subscription, you'll provide Menlo Club with the styles that you like (Casual, Classic, Forward, or a mix), plus all of your shoe, pant, and shirt sizes, so you can be sure that everything will fit. If something doesn't fit when it arrives, size exchanges are free, as is shipping.
You can cancel whenever you want, and for a limited time, you can get your first box for just $25, plus a bonus t-shirt, dad hat, and either swim trunks or sunglasses. Just use promo code MenloFather at checkout to get the offer. At $25 for all of that (plus the stuff you'd ordinarily get in the box), why wouldn't you at least give it a shot?
---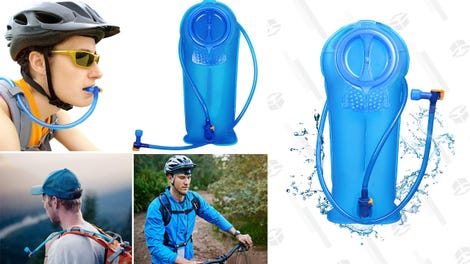 Stay hydrated on your upcoming hike with these two water bladders. Use the promo code WVXILMGR to drop the price of thestandalone 2 liter bladder to just $9 , while PR7NZT8A will drop the price of the bladder and cleaning kit to just $12 .

These packs offer hands-free hose to enable you to drink water without needing to press pause on your activity.
---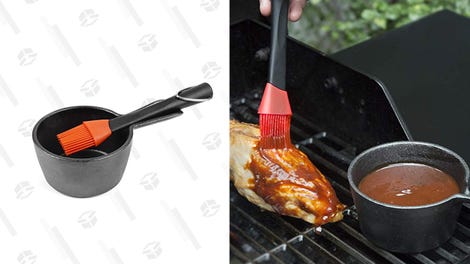 If your dad's summer catchphrase is "let me fire up the grill," we've got a little deal for you. You can get your dad the Charcoal Companion Cast Iron Sauce Pan & Basting Brush Set as an add-on gift for Father's Day (maybe toss in some steaks as well). Your dad is going to baste the hell out of every meat he can get his hands on this summer. We hope your family likes BBQ!

---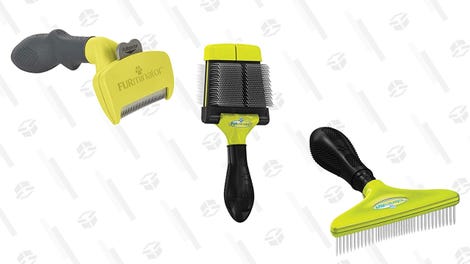 Summer is right around the corner, but do you know what else is? A clump of your dog's fur on the floor. If your fur baby hasn't finished shedding their winter coat quite yet, it is time to step in and help. Right now, you can get an assortment of FURminator grooming products on sale. The FURminator for Cats Undercoat Deshedding Tool is about $10 off. You can get a FURminator Dog Rake for about $9 off as well.

And if you wind up buying a few FURminator tools, you can choose the shampoo as your Amazon add-on item for only $4, if you spend $25.
---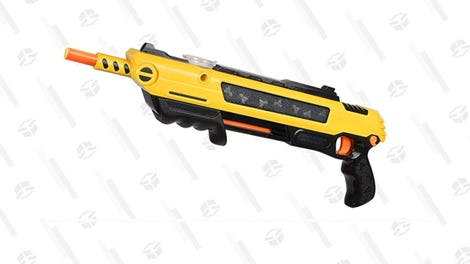 If you spend most of your summer cowering away from bugs, cower no longer. Sometimes, bug spray just doesn't cut it when flying bugs descend upon us. If you want to tell them to back the hell off, this Bug-A-Salt 2.0 Fly Gun is a couple of bucks off. The 2.0 version of this gun has greater accuracy than the previous model and uses less salt per shot, giving you about 80 shots before you need to reload. If your dad is always grumbling about flies and mosquitos, this would be a great gag (but useful) gift for Father's Day .

---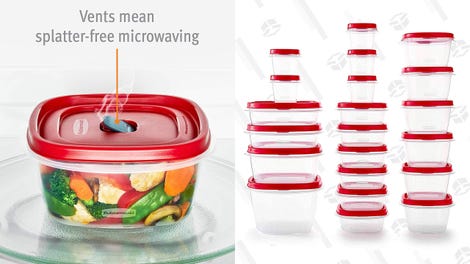 Rubbermaid's Easy Find Lid sets are one of our favorite ways of storing leftovers , and one of our readers' favorites too . Now, you can get the new assortment with microwave-ready vented lids for $18 , the set's first discount from its usual $20.

The secret to this set is that while its 21 containers come in six different sizes to suit your needs , it only requires three sizes of lids, making it much easier to find and identify one that fits at a glance. It sure beats that random assortment of deli meat containers and random tupperware pieces you've been using.
---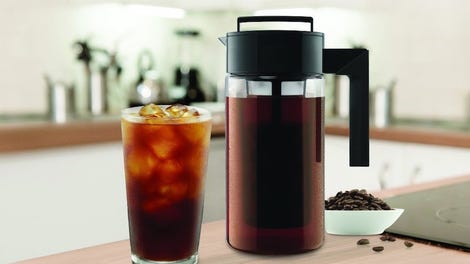 Iced coffee is a brilliant way to sell people ice for the price of coffee (which is mostly water to begin with). Cold brew on the other hand is a different process that results in less acidity, among other benefits, and you can do it yourself at home with this top-selling Takeya, now down to $18 on Amazon after you clip coupon on page.

This non-coffee drinker bought one of these a couple years ago, and I loved the thing (though admittedly, I have since upgraded to the OXO alternative ). All you have to do is fill the basket with ground coffee, fill the container with water, and let it steep overnight in the fridge. The resulting coffee concentrate needs to be watered down, so one batch should last you several days.
---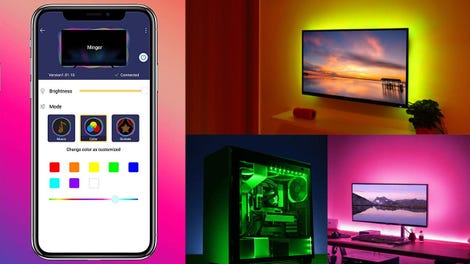 $18 would be a good price for a barebones HDTV bias light that you have to get up off the couch to control. But today, that gets you a 16.4' strip with a built-in microphone to bounce along with ambient music, and even Wi-Fi app and Alexa control. I have a similar set from the same company behind my TV, and it works great. Just use promo code R8NNTV6U at checkout to get the deal.

---
It's not cold outside anymore, but anxiety is always in season. In addition to keeping you warm, a weighted blanket can work wonders for your anxiety , and several different models are on sale for Father's Day, if you still haven't picked out a gift .
---
The deals skew towards heavier blankets for your large, manly dad who can take such weights. Options include a beefy 25 pounder for just $70 (with code TB3MR33M), a 20 pounder for just $49 (with code K65ACBZ6). Just be sure to note the promo codes above or below to get the deals.
Personally, I want my weighted blankets to be capable of breaking ribs (I own a 25 pounder myself), but the general recommendation is 10% of your body weight. Not to stress you out, but we wouldn't expect this deal to last for long.
---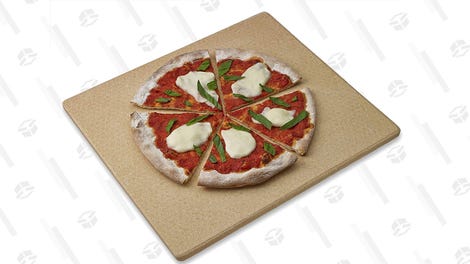 The way you make pizza isn't set in stone . Or is it? If you're a burgeoning chef with pizzeria aspirations, toss your dough at this 14" by 16" rectangular pizza stone, now on sale for $28 when you apply the 20% off coupon. It will ensure that all your homemade crusts are the perfect ratio of crunchy to chewy, and eliminate a pizza's greatest downfall: the soggy center. Get a slice of the action before this delizioso deal is out of the oven.

---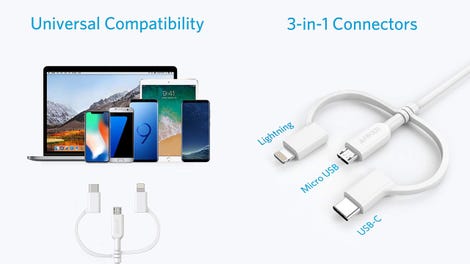 If you want the durability and lifetime warranty of Anker's PowerLine II charging cables , but you own a lot of different devices, this $11 microUSB cable (with promo code ANKER3IN1) includes Lightning and USB-C adapters attached to the end. It's a little awkward looking, but it's nice to know you'll always have the right cable handy.

---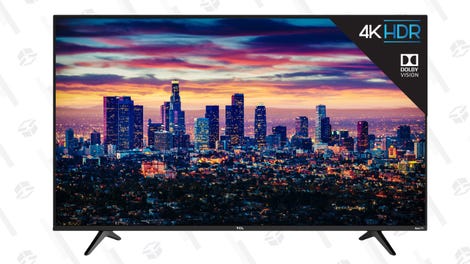 Update: Now the 55" model is down to an all-time low $500 as well!

TCL's affordable 6-series TVs are famous for offering every form of HDR (including top-shelf Dolby Vision), local dimming zones for better contrast and black levels, and even excellent Roku software. So if you want to upgrade for World Cup, Wimbledon, the return of Big Little Lies, or just your nightly Netflix coma, the 65" is down to $700 right now, which is an absolute steal for this feature set..
It's also the same price at Amazon , but with 15% cash back if you pay for it with an Amazon Prime credit card .
---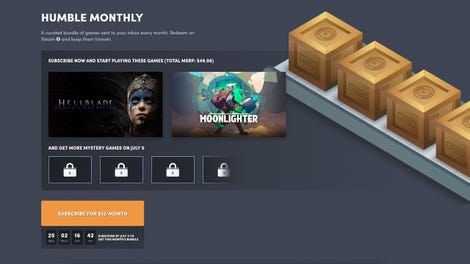 This month's Humble Monthly games include Hellblade: Senua's Sacrifice and Moonlighter. And as always, more games will unlock every Friday until the end of the month.

If you're not familiar, Humble Monthly is a $12 per month subscription service and releases a cache of PC games each month, plus 10% off in the Humble Store, and extra benefits on certain Humble Bundles. The best part? Even if you cancel your membership, every game you add to your Steam library is yours to keep.
---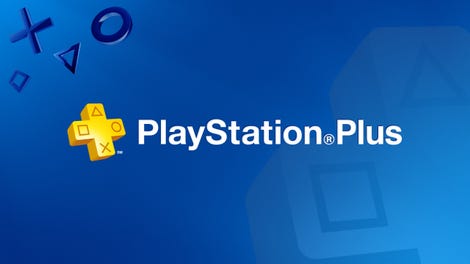 If you didn't buy enough years for $40 back on Black Friday, you can get the exact same price today on PlayStation Plus from Amazon today in celebration of E3. If you own a PlayStation 4, or are planning to buy one soon , the only question is how many of these membership years you should buy, not whether you should buy them.

---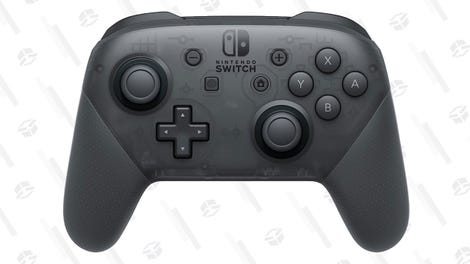 The Switch Pro controller isn't just one of the best ways to control your Nintendo Switch , it might be one of the best gamepads ever made, period. If you have a Switch and still haven't picked one up, $50 is about $15 less than usual .

If you're thinking "but I have a pair of Joy-Con and the grip thing; what do I need this for," know that I felt the same way for a long time. But when I finally caved and bought a Pro controller for a Super Smash get-together a few months ago, there was no turning back. It's so much more comfortable to hold, and the buttons are so much bigger and nicer to press. I'm angry that I waited so long.
---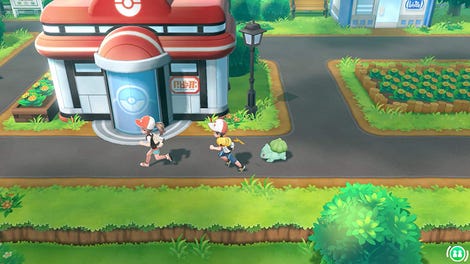 If you haven't picked up the nostalgia bomb that is Pokémon: Let's Go Eevee, you can grab it for $35 today on eBay, a new all-time low price.

These games are basically modern, 3D remakes of the original Red and Blue games that you played on your Gameboy, and while they're a bit easy by modern Pokémon standards, the series has never looked so good.
It's perfect to kill time before Pokemon Shield and Sword come out .
---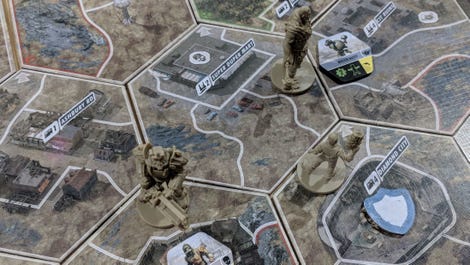 I don't know why people got so worked up about Fallout 76 - it's not like it was the first multiplayer Fallout game after all .

Kidding aside, the Fallout board game is excellent and cooperative, and you can pick it up for an all-time low 28 caps on Amazon today. The NPCs are even included in the box; no need to wait a year for a free update.
---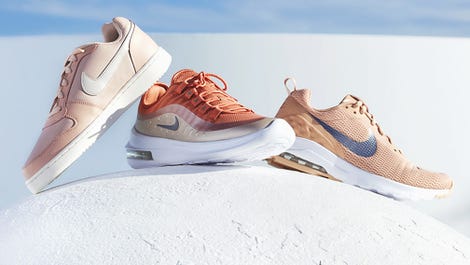 When it comes to the sneaker-and-activewear space—let's be honest—nothing really compares to Nike. And right now at Nordstrom Rack, you'll find a whole lot of newly marked down Nike styles for men, women and, kids. Like, we're talking over 1,600 marked-clothes, shoes, and accessories. But this sale will only last through June 15, so if you're in need of new sneakers and/or workout gear, well, you know just what to do: it.

---
Everyone needs a good pair of jeans, and if you need more than one pair—or if a dad in your life needs a pair, too—this deal is for you. Right now at Levi's Almost Father's Day Sale, you can take up to 40% off sitewide, hence why it's a good time to stock up. The promo applies to regular-priced and sale styles for men, women, and kids, so truly everyone can dive into some new, discounted denim.

---
Pssst. Hey, you. Are you wearing sunscreen on your face every day? Even on days when it's cloudy and/or cold? I'm not here to judge if you're not, but I am here to remind you that you absolutely should be—especially in summer! Luckily, Murad is taking 10% off all sunscreen, so you can protect your face from harmful UV rays without spending a fortune. Just use promo code BLOCKPARTY before the sun sets on this important deal.

---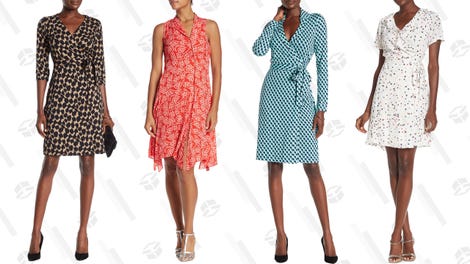 You don't need a special occasion to don one of Diane Von Furstenberg's iconic patterned wrap dresses — especially since a slew of swingy styles, including a few tops, pants, and skirts, are on sale right now at Nordstrom Rack. But if you want to get wrapped up in a new DVF look for around 60% off, act quickly; the designer's stock is already selling out.

---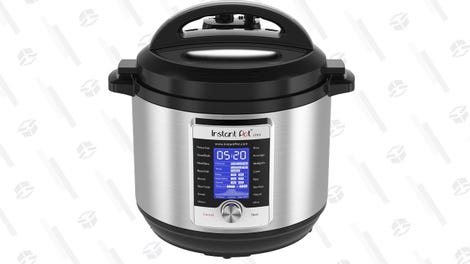 The six quart Instant Pot Ultra is down to $89 right now, a new all-time low by $10. You should buy one .

The Instant Pot Ultra features a completely revamped, dial-based UI that makes fine-tuned adjustments faster and easier than the older models. A new processor allows it to compensate for altitude and carry out completely custom programs, and it also has a few modes you won't find on the standard Instant Pots, like cake, eggs, and sterilize.
If you're worried that you won't get a ton of use out of this thing, note that in addition to speedy pressure cooking, this is also our readers' favorite slow cooker , and one of their favorite rice cookers too . It's one of the most versatile kitchen gadgets you can own, and I use mine (this exact model) several times per week.

---
Amazon's Echo Wall Clock is a revelation for the specific (but I think quite large!) subset of people who:

1) Use Alexa timers in the kitchen with some regularity.
and
2) Don't have an Echo Show with a screen built in.
Just pop in some batteries, hang the clock, and a ring of LEDs will automatically count down the minutes and final 60 seconds of any timer you set with your voice. It's elegant, seamless, and I can't stand how much I love the thing .
It came out late last year for $30, but it just got only its second discount ever , down to $25. The clock is ticking on this deal though, so don't waste any time.
---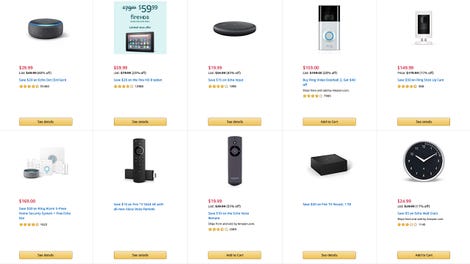 To celebrate Father's Day, everything you'd want to jump start a smart home or entertain your dad from the shopping giant is on sale right now.

Choose from a $20 Echo Input (which adds Alexa to any speaker you want), $120 Echo Plus , Echo Show 5 bundled with an Echo Show for $270 , and a ton of echo Echo Dot bundles.
You can pick one up with a Fire TV Stick or one with 4K (pick this one ,) or expand your smart home with a TP-Link smart plug for $45 or Sengled light bulbs for $50 . Amazon's surprisingly useful Echo Wall Clock is down to just $25, too.
Additionally, Amazon's entire line of tablets and e-readers are also on-sale.

Fire HD 8 tablets are just $60 . The new, waterproof, Bluetooth-equipped Kindle Paperwhite is down to just $100 with 10% cash back for Prime holders . And the cheaper, non-waterproof Kindle is selling for $70 .

---
The Apple Watch as a product line may have had a rocky launch, but its latest iteration, the Series 4, is a seriously impressive leap forward . So whether you're finally upgrading your original model, or even getting your very first wearable, it's the one you should buy, especially on sale.

For a limited time, Amazon's got both the 40mm and 44mm GPS versions marked down by $60, with your choice, in a few different color/band combos. The rubbery sports band looks surprisingly nice in person, while the Sport Loop is like a very high quality velcro . These discounts are taken at checkout, and you should see the coupon that will be applied on the product page. You should be looking for models that will cost $339 (40mm) or $369 (44mm) to get the best deal.
If you want to go high end, you can also save $60 on a few stainless steel models with GPS and cellular connectivity. Look for the $639 (40mm) and $689 options (44mm) .
---
If you aren't a professional photographer, but still value image quality and features in your drone, the DJI Mavic Air offers the best combination of portability, ease of use, and camera specs on the market.

The drone by itself usually costs $799, but Target just dropped that to $549, easily the best price we've ever seen. Unfortunately, this doesn't include a carrying case or extra batteries, but it has everything you need to get started with the hobby.

I had a chance to fly one of these at Outpost this year, and as an old Phantom 2 owner, I was completely blown away. It folds up small enough to fit in a jacket pocket, but holds remarkably still in the air. Front and rear obstacle avoidance cameras keep it from crashing into a tree (or a person), and its gimbal-stabilized 4K camera can automatically track moving subjects, or perform pre-programmed shooting routines. You'll have a ton of fun with this thing.
---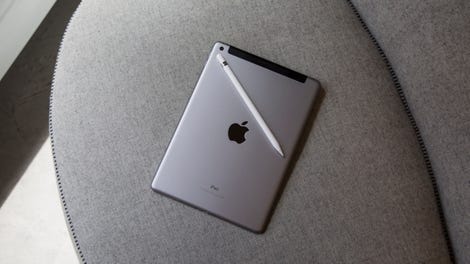 Unless you really need the iPad Pro (and you almost definitely do not), the standard, vanilla 2018 iPad is a terrific tablet for both consuming and creating media . It even works with the Apple Pencil, the first non-Pro iPad to do so.

While we saw slightly better deals on these around Black Friday (if you were quick enough to snag them), $249 for 32GB is still a terrific price for 32GB, and $329 is the best price we've seen on the 128GB model (which is the one you should probably buy). If you ask me, it's worth buying one of these for the express purpose of playing Civilization VI on the go.
---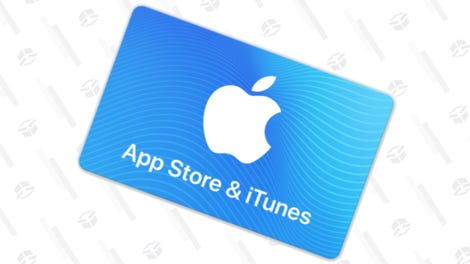 iTunes gift card discounts are noticeably less common than they used to be, so if you need more credit for apps, music, movies, iCloud storage, or anything else, buy a $100 gift card from eBay for 15% off, while supplies last.

This gift card is sold by Paypal's eBay store, and should arrive in your inbox within four hours. Just don't spend it all on Elder Scrolls: Blades gems.
---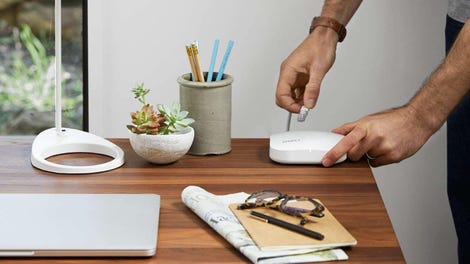 If Amazon's recent acquisition of eero didn't scare you off the pioneer in mesh networking , the retailer is celebrating its new networking play-thing with big discounts across the board, for a limited time.

Get a an eero and an eero Beacon (which plugs straight into the wall and doubles as a night light) for $239 (a $60 discount), an eero and two beacons for $319 (an $80 discount), or for the largest and most densely constructed houses, three full eero routers for $399 (a $100 discount). To be clear, If you live in a one bedroom apartment, you don't need any of these, but if you find that a single router doesn't get you a reliable Wi-Fi signal in every part of your house, mesh systems like these are a godsend.
---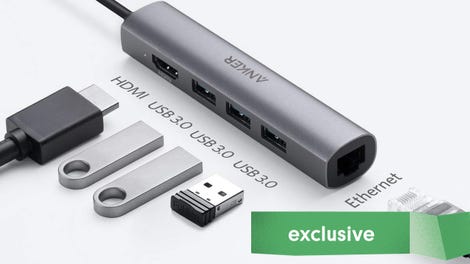 USB-C has been great in a lot of ways, but it's going to be a long time until all of our accessories use the new connector. So if you have a laptop, tablet, or even phone whose only physical connection to the outside world is a USB-C port, you're going to need a dongle .

Luckily, this space-saving option from Anker includes three USB 3.0 ports, an HDMI port, and even an ethernet port, and you can add it to your bag for just $32 today with promo code KINJACH5. The $33 list price is itself an all-time low by $3, so our code is a cherry on top.
---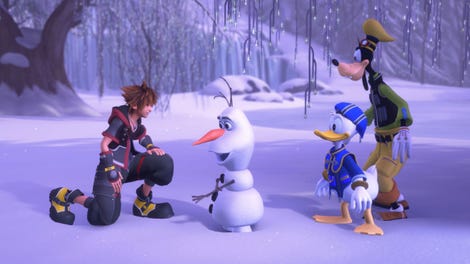 If you've somehow managed to keep track of Kingdom Hearts' story over the years—or even if you haven't, and just want to enjoy a bizarre mashup of Disney and Square Enix IP —Kingdom Hearts III is down to an all-time low $25 on PS4 and Xbox One today.

---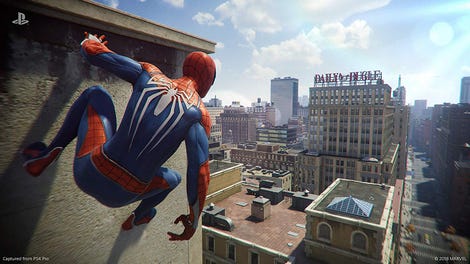 Marvel's Spider-Man features all the web-slinging fun you could want in an open world Spider-Man game, and it's down to $20 today on Amazon, an all-time low. And yes, it has the Sam Raimi suit now .

---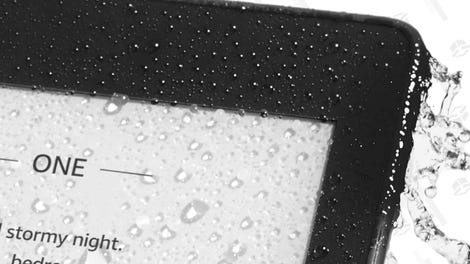 The new, waterproof, Bluetooth-equipped Kindle Paperwhite is $30 cheaper today. This is one of the better deals we've seen , and if you have an Amazon Prime credit card, you'll get 10% cash back , which effectively lowers the price to $90.

Oh, and if you want the cheaper, all-new Kindle—that's also cheaper now, too. It's selling for $70 which is also the lowest price we've ever seen. The more expensive Oasis is also $50 off with 20% cash back for Prime card members .

---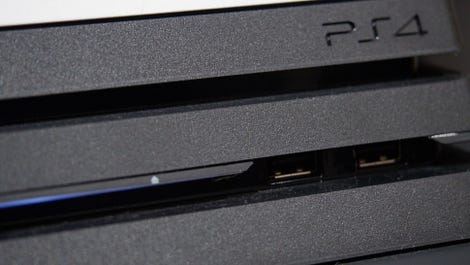 Unlike the (more powerful) Xbox One X , the PS4 Pro has been remarkably resistant to discounts since its release. Today though in celebration of E3, you can get it for $350, down from the usual $400. Just note that it doesn't come with any bundled games.

---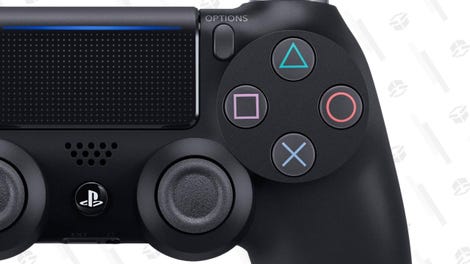 It's only available in black, but $40 is about as good a deal as you're likely to see on the DualShock 4 outside of Black Friday. Best of all, it'll work with your iPhone, iPad, and Apple TV once iOS 13 comes out in the fall.
---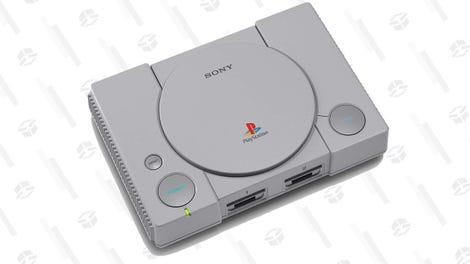 The PlayStation Classic doesn't have Suikoden II, which means it's a skip for me. But people who know better than me say it's relatively straightforward to add some yourself. And even if you don't bother hacking it, there's still plenty worthwhile pre-loaded games to keep you entertained .

While $100 was a lot to ask, this sale makes it *a lot* easier to just bite the bullet and buy it for $30 already . And if you want an even bigger discount, eBay has a few open-box units for just $28.
---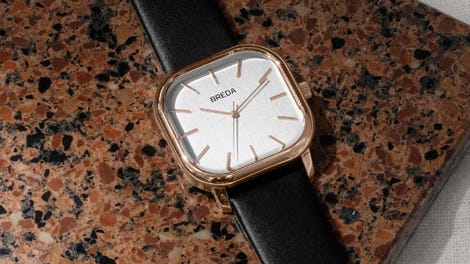 We're big fans of Dallas-based Breda's minimalist timepieces, and starting under $60 for a ton of different styles, they'd make for a great Father's Day gift.

For a limited time, use promo code KINJA30 to save 30% on the dozens of watches found on this page, plus free shipping, and even a free gift box.
---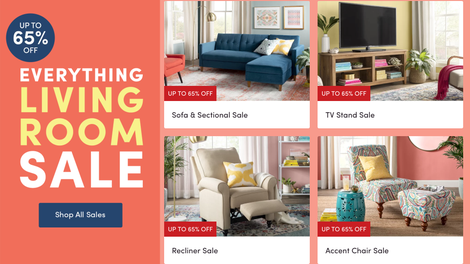 You probably spend a good amount of time in your own living room, so treat yourself to any upgrade your heart desires (or your home requires) with Wayfair's Everything Living Room Sale, happening now. Take up to 65% off a wide range of accents and essentials, including sofas, area rugs, curtains, lighting, and wall art, just to name a few. It's a deal you'll appreciate literally every single day.
---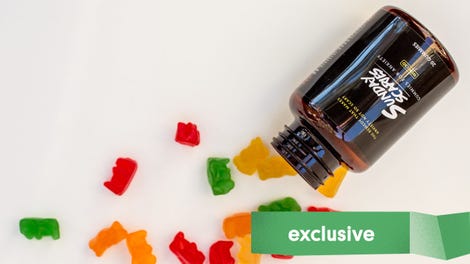 If you're having trouble sleeping, suffering from anxiety, or having trouble sleeping because you're suffering from anxiety, Sunday Scaries CBD gummies could help. Jolie Kerr shared her thoughts on them for The Inventory , and now, our readers can save 17% with promo code GIZMODO17.

That applies to the regular gummies, the vegan versions, and the pure CBD tincture, with extra savings available if you buy in bulk, so your wallet can rest as easy as you will.
---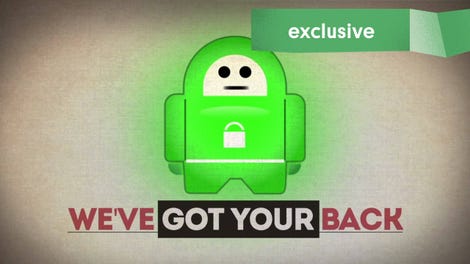 Three-year plans aren't available to the general public at all, but if you click this link, you can get three years for $99, which works out to just $2.75 per month. That's only $9 more than it was cost to the price hike, and while shorter plan lengths are available, none come close to the per-month pricing of this three-year membership. For example, the publicly available two-year plan costs about $84, and a month-to-month plan will set you back $10 per month.
If you subscribe to the three-year plan today, you'll be able to continue to renew it at the same price for the life of your subscription, so this is a great chance to lock in a terrific deal.
---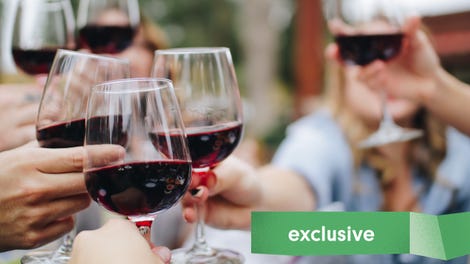 Firstleaf is an online wine club that learns your preferences, offers tons of great wines from around the world, and most importantly, saves you money compared to buying from the store. It's a solid deal any time, but it's even better for our readers right now in preparation for Mother's Day.
Every new Firstleaf member gets an introductory delivery with six bottles of wine for just $40 with free shipping, and every box thereafter includes six bottles for $80, plus $10 shipping. But if you use this link when you sign up, you'll get FREE shipping on every box for your entire first year. That'll save you over $100 if you get a new box every month. At the very least, you should send Mom the trial box for less than $7 per bottle. I mean, why wouldn't you?