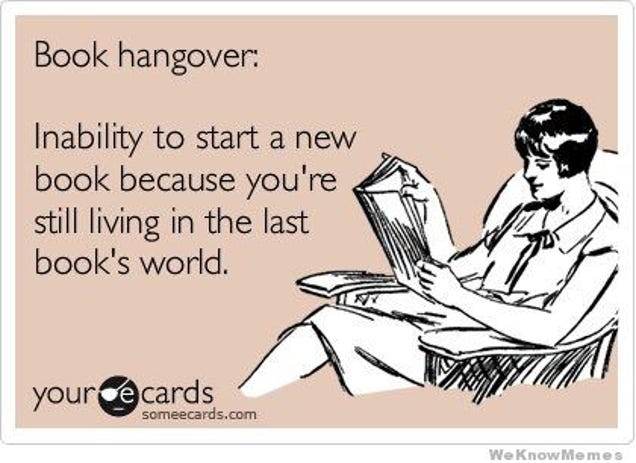 I finished reading "Hannibal" last night, thus missing my goal of reading the first 3 Hannibal Lecter books before the start of season three of the show by 4 weeks but such is life. I find when I really enjoy a book I slow down so I can make it last longer.
"Hannibal" has given me serious book hangover. Like I don't think I'll be able to start a new book for a week. I can't even get excited for the show tomorrow because I'm like "What does it matter, I don't get to see Clarice and Hannibal happy together." That's how book hungover I am. This book also made me do something no other book has achieved: it made me cry twice! And laugh so much for being so fucking over the top. "Silence of the Lambs" also made me cry. So congratulations Mr. Thomas Harris, 2 of the 6 books to make me cry are yours*. I knew the ending of "Hannibal" going into the book, but it was not what I was expecting.
Has anyone else here read the books? Want to discuss them? I would love to discuss them alone, like what's your take on the end of "Hannibal?" The ending has divided the Hannibal community since its release in 1999. I personally love it.
Or we can talk about the novels in comparison to the show. There's a lot to unpack when it comes to how they are used in the show and not just in terms of plot. Last week I couldn't help but notice how much of Clarice's dialgoue or thoughts were turned into dialogue and given to Alana. Basically 80% of everything she said to Mason was originally Clarice's in "Hannibal." What do you think of the show turning Margot into a femme lesbian instead of the body builder, steriod taking lesbian she was in the book?
Can you not wait to return to canon and be graced by Dolarhyde? I am personally excited to see how Tara from "True Blood" will portray Reba. I love the Dolarhyde/Reba storyline because it's so sweet yet tragic.

*The other novels to make me cry for those who are curious: "Villette" by Charlotte Bronte, "Little Women" by Louis May Alcott, "The Bell Jar" by Sylvia Plath and "The Virgin Suicides" by Jeffrey Eugenides.