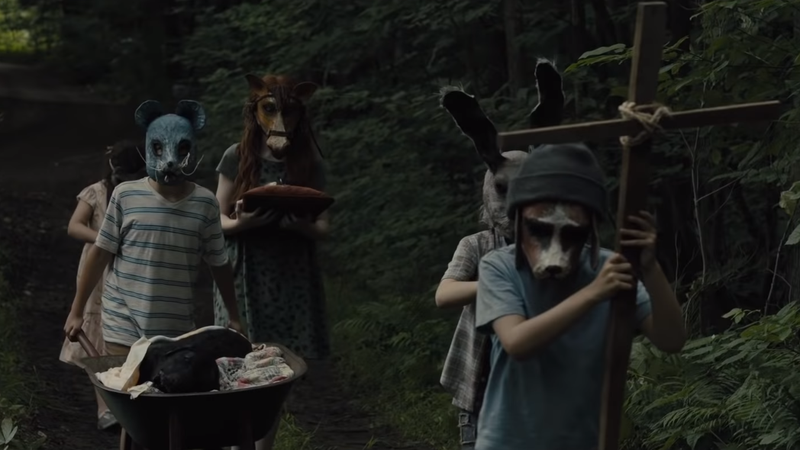 Nogle gange er døde bedre, hvilket ofte er nøjagtigt, hvordan SXSW- deltagere føler dag 7 af Austin film- og musikfestivalen. Det gør dette års afsluttende natvalg endnu mere hensigtsmæssigt, da SXSW officielt har cementeret Dennis Widmyer og Kevin Kölschs Pet Sematary remake som sendoff til sin 2019 filmfestival. Som tidligere annonceret åbner festet med Jordan Peele's Us , booking seven (eller 700, som kan tælle da?) Dage med filmisk vanvid med psykologisk terror. Hvad kunne være mere egnet til denne søvnberøvede uge med film, musik , øl og aktiveringer ( so many activations ) i Austin, Texas?
Derudover har SXSW annonceret sin fulde film lineup, herunder festival favoritter som Alex Ross Perrys Her Smell , med hovedrollen Elisabeth Moss som en selvdestruktiv punk-rocker; zombie komedie og nylige Sundance fave Little Monsters ; og The Mountain , Rick Alversons efterlængte opfølgning på Entertainment med hovedrollen Jeff Goldblum og Tye Sheridan. 2019's Midnighters lineup funktioner Daniel Isn't Real , direktør Adam Egypt Mortimer opfølgning på Some Kind Of Hate , der starred med American Honey Breakout Sasha Lane, samt Girl On The Third Floor , den direkte debut fra den produktive genreproducent Travis Stevens, hvis kreditter omfatter Cheap Thrills og Starry Eyes (fra duoen bag Pet Sematary , ikke mindre).

Find de fulde beskrivelser af ovenstående film samt alle SXSW 2019s tidligere annoncerede titler, herunder.
FEATURES
MIDNIGHTERS
MIDNIGHTERS

7 Reasons to Run Away (From Society) (Spanien)
Direktører: Esteve Soler, Gerard Quinto, David Torras, Skribent: Esteve Soler
7 Reasons to Run Away tager et kritisk kig på dagens samfund og sætter de værdier, det overfører til spørgsmålet. Cast: Sergi Lopez, Emma Suarez, Lola Dueñas, Alex Brendemuhl, Alain Hernandez, Francesc Orella (Verdenspremiere)
Body At Brighton Rock
Body At Brighton Rock
Direktør / Screenwriter: Roxanne Benjamin
En uerfarne parkmedarbejder opdager en krop på et fjerntliggende bjergspor og skal forblive med natten over i ørkenen og står over for hendes mørkeste frygt i processen. Cast: Karina Fontes, Casey Adams, Emily Althaus, Brodie Reed, Martin Spanjers, John Getz, Miranda Bailey, Susan Burke, Matt Peters (verdenspremiere)
Boyz in the Wood (Det Forenede Kongerige, USA)
Direktør / Screenwriter: Ninian Doff
Når fire city-opdrættede schoolboys påbegynder en traditionel hertug af Edinburgh Award camping tur, der tager dem dybt ind i det skotske højland, finder de sig i jagt af et forfalsket maskeret par med målsætninger om at udslette denne teenagede "dyreliv". Cast: Eddie Izzard, Kate Dickie, James Cosmo, Kevin Guthrie, Jonathan Aris, Alice Lowe, Samuel Bottomley, Viraj Juneja, Rian Gordon, Lewis Gribben (Verdenspremiere)
Daniel Isn't Real
Daniel Isn't Real
Direktør: Adam Egypt Mortimer, Skribent: Brian DeLeeuw, Adam Egypt Mortimer
Troubled Luke lider et voldeligt familietrauma og genopliver sin barndoms imaginære ven for at hjælpe ham med at klare. Karismatisk og fuld af manisk energi, "Daniel" hjælper Luke med at opnå sine drømme, før han skubber ham i en desperat kamp for sin egen sjæl. Cast: Patrick Schwarzenegger, Miles Robbins, Sasha Lane, Hannah Marks, Mary Stuart Masterson (Verdenspremiere)
Darlin'
Darlin'
Direktør / Screenwriter: Pollyanna McIntosh
I denne visuelt opfindsomme efterfølger til The Woman bliver en feral teenagepige inddraget i streng katolsk pleje og forberedt på hendes første hellige kommunion. Cast: Lauryn Canny, Bryan Batt, Nora-Jane Noone, Cooper Andrews, Pollyanna McIntosh (World Premiere)
Girl On The Third Floor
Girl On The Third Floor
Direktør / Screenwriter: Travis Stevens
Don Koch forsøger at renovere et rundown hus med en sordid historie for sin voksende familie, kun for at lære at huset har andre planer. Cast: Phil Brooks, Trieste Kelly Dunn, Sarah Brooks, Elissa Dowling, Karen Woditsch, Travis Delgado, Marshall Bean, Anish Jethmalani, Biskop Stevens, Tonya Kay (Verdenspremiere)
I See You (Det Forenede Kongerige, USA)
Direktør: Adam Randall, Skribent: Devon Graye
Mærkelige begivenheder plager en lille bydetektiv og hans familie, da han undersøger en ung drengs forsvinden. Cast: Helen Hunt, Jon Tenney, Judah Lewis, Owen Teague, Libe Barer, Greg Alan Williams, Erika Alexander, Allison King (verdenspremiere)
Snatchers
Snatchers
Direktører: Stephen Cedars, Benji Kleiman, Skribenter: Stephen Cedars, Benji Kleiman, Scott Yacyshyn
Efter en populær teenager har sex for første gang, finder hun sig gravid - med en fremmed. Med ingen til at vende sig til, men hendes nørde ex-best-ven, skal hun risikere hendes nakke - og sociale status - for at bekæmpe den freaky udenrigsrisiko. Cast: Mary Nepi, Gabrielle Elyse, Austin Fryberger, JJ Nolan, Nick Gomez, Ashley Argota, Amy Arburn, Amy Landecker, Rich Fulcher (Verdenspremiere)
Tales from the Lodge (Det Forenede Kongerige)
Direktør / Screenwriter: Abigail Blackmore
Når en gruppe af gamle venner overnatter for at fortælle historier om mord, spøgelser, zombier og ejendele, bliver de snart opmærksomme på en anden fortælling, der udfolder sig omkring dem. Og denne er ægte. Cast: Mackenzie Crook, Dustin Demri-Burns, Laura Fraser, Sophie Thompson, Johnny Vegas, Kelly Wenham (Verdenspremiere)
Tone-Deaf
Tone-Deaf
Direktør / Screenwriter: Richard Bates, Jr.
To generationer kolliderer med skræmmende resultater i denne invasionskrydsningsfilm, der også er en mørk komedisk kritik af de bizarre kulturelle og politiske klimaer i USA. Cast: Amanda Crew, Robert Patrick, Kim Delaney, Hayley Marie-Norman, Ray Wise, Johnny Pemberton, Keisha Castle-Hughes, AnnaLynne McCord, Nelson Franklin, Ronnie Gene-Blevins
FESTIVAL FAVORITES
FESTIVAL FAVORITES

Apollo 11
Apollo 11
Direktør: Todd Douglas Miller
Et kig på Apollo 11-missionen til at lande på månen ledet af kommandør Neil Armstrong og pilot Buzz Aldrin.
Aquarela (Tyskland, Det Forenede Kongerige)
Direktør: Victor Kossakovsky, Skribenter: Victor Kossakovsky, Aimara Reques
Aquarela er en dybt filmisk rejse gennem den transformative skønhed og rå strøm af vand. Filmet til 96 rammer per sekund er det et visceralt vågneopkald, at mennesker ikke matcher den rene styrke og vilje til Jordens mest dyrebare element.
Greener Grass
Greener Grass
Direktører / Screenwriters: Jocelyn DeBoer, Dawn Luebbe
En lækker twisted komedie i en dementeret, tidløs forstæder, hvor hver voksen bærer bøjler på deres lige tænder, par koordinerer omhyggeligt pressede tøj og eftertragtede familiemedlemmer byttes på flere måder end en i denne konkurrence for accept. Cast: Jocelyn DeBoer, Dawn Luebbe, Beck Bennett, Neil Casey, Mary Holland, D'Arcy Carden, Dot-Marie Jones, Janicza Bravo, Jim Cummings, Lauren Adams
Her Smell
Her Smell
Direktør / Screenwriter: Alex Ross Perry
En selvdestruktiv punk rocker kæmper med nådighed, mens man forsøger at genvinde den kreative inspiration, der førte hendes bånd til succes. Cast: Elisabeth Moss, Cara Delevingne, Dan Stevens, Amber Heard, Agyness Deyn, Gayle Rankin, Ashley Benson, Eric Stoltz, Dylan Gelula
The Hottest August (Canada, USA)
Direktør: Brett Story
En film om klimaændringer, forklædt som et portræt af kollektiv angst.
Opfinderen: Ud for blod i Silicon Valley
Direktør / Screenwriter: Alex Gibney
Elizabeth Holmes var engang verdens yngste selvfremstillede milliardær, der blev indkaldt som den næste Steve Jobs. Derefter opløstes hendes $ 10 milliarder dollar selskab. Teranos opkomst og fald er et vindue i svigens psykologi.
Knock Down the House
Knock Down the House
Direktør: Rachel Lears Screenwriters: Rachel Lears, Robin Blotnick
Fire kvinder løber til kongressen, overvinder personlig modgang for at kæmpe kraftfulde politiske maskiner over hele landet. Et af deres løb vil forandre landet for evigt.
Little Monsters (Australien)
Direktør / Screenwriter: Abe Forsythe
En skyllet musiker står sammen med en flot skolelærer og en foragtelig børns showpersonlighed for at beskytte en børnehaveklasse fra et pludseligt udbrud af zombier. Cast: Lupita Nyong'o, Alexander England, Josh Gad
Maiden (Det Forenede Kongerige)
Direktør / Screenwriter: Alex Holmes
I et bevægeligt portræt af modstandsdygtighed, forklarer Alex Holmes den hidtil usete rejse af den 24-årige Tracy Edwards og det første all-female sejlpersonag til at komme ind i Whitbread Round World Yacht Race.
The Mountain
The Mountain
Direktør: Rick Alverson, Skribenter: Rick Alverson, Dustin Guy Defa, Colm O'Leary
En velkendt læge, som går ned i sin karriere, tager en ung mand på en desperat tur på landdistrikterne i midten af ​​århundredet og fortaler for en ny kontroversiel procedure. Cast: Tye Sheridan, Jeff Goldblum, Hannah Gross, Denis Lavant, Udo Kier
Pahokee
Pahokee
Bestyrelsesmedlemmer: Ivete Lucas, Patrick Bresnan
I en lille landbrugsby i Florida Everglades er håb om fremtiden koncentreret om ungdommen. Fire teenagere står over for hjertesorg og fejrer i ritualerne i et ekstraordinært seniorår.
Hæve helvede: Molly Ivins liv og tider
Direktør: Janice Engel, Skribenter: Janice Engel, Monique Zavistovski
Seks fødder af Texas trouble, Molly Ivins, en legendarisk journalist og en kriger for Bill of Rights, kæmpede for god gamle dreng korruption med knivskarpe hvide, der forlod begge sider af gangen griner og tørre blæk i hendes kolonner. Hæv helvede!
Sister Aimee
Sister Aimee
Direktører / Screenwriters: Samantha Buck, Marie Schlingmann
Efter at have fejlagtet sin egen død, finder Amerikas mest berømte evangelist sig på en vildtvejskørsel mod Mexico, hjemsøgt ikke kun af politiet men af ​​sin egen persona. Cast: Anna Margaret Hollyman, Michael Mosley, Andrea Suarez Paz, Julie White, Amy Hargreaves, Macon Blair, Lee Eddy, Blake Delong, John Merriman, Nathan Zellner
Them That Follow
Them That Follow
Direktører / Screenwriters: Britt Poulton, Dan Madison Savage
Sæt dybt i vildene i Appalachia, hvor de troende håndterer dødsrangerende slanger for at bevise sig for Gud, Them That Follow fortæller historien om en pastors datter, der har en hemmelighed, der truer med at rive sit samfund fra hinanden. Cast: Olivia Colman, Kaitlyn Dever, Alice Englert, Jim Gaffigan, Walton Goggins, Thomas Mann, Lewis Pullman
The Weekend
The Weekend
Direktør / Screenwriter: Stella Meghie
En komiker henter bagagen af ​​hendes afsluttede forhold på en weekendflyvning med venner, som tilfældigvis omfatter sin ex-kæreste og hans nye kæreste. Cast: Sasheer Zamata, Tone Bell, Dewanda Wise, Y'Lan Noel, Kym Whitley
HEADLINERS
The Beach Bum
The Beach Bum
Direktør / Screenwriter: Harmony Korine
The Beach Bum følger Moondogs hilariske misadventures (Matthew McConaughey), en oprørsk skurk, der altid lever livet efter sine egne regler. Co-starring Snoop Dogg, Zac Efron og Isla Fisher, The Beach Bum er en forfriskende original og subversiv. Cast: Matthew McConaughey, Snoop Dogg, Isla Fisher, Stefania Lavie Owen, Jimmy Buffett, Zac Efron, Martin Lawrence (Verdenspremiere)
Booksmart
Booksmart
Direktør: Olivia Wilde, Skribent: Emily Halpern, Sarah Haskins, Susanna Fogel, Katie Silberman
På tærsklen til gymnasiet indser to akademiske superstjerner og bedste venner, at de burde have arbejdet mindre og spillet mere. Bestemt for ikke at falde fra deres jævnaldrende, pigerne satte på en mission for at få fat i fire års sjov i en nat. Cast: Kaitlyn Dever, Beanie Feldstein, Jessica Williams, Will Forte, Lisa Kudrow, Jason Sudeikis (Verdenspremiere)
The Curse of La Llorona
The Curse of La Llorona
Direktør: Michael Chaves, Skribent: Mikki Daughtry, Tobias Iaconis
I 1970'erne Los Angeles stalker La Llorona natten ... og børnene. Ignorerer den uhyggelige advarsel fra en urolig mor, bliver en socialarbejder snart trukket ind i et skræmmende overnaturligt rige med sine egne børns liv og sjæle på spil. Cast: Linda Cardellini, Raymond Cruz, Patricia Velasquez, Marisol Ramirez, Sean Patrick Thomas, Jaynee-Lynne Kinchen, Romersk Christou (Verdenspremiere)
Good Boys
Good Boys
Direktør: Gene Stupnitsky, Skribenter: Lee Eisenberg, Gene Stupnitsky, Beth Stelling, John Phillips
Forfatterne til Superbad og producenterne af Sausage Party tager sjette klasse i Universal Pictures ' Good Boys , en R-rated komedie om tre venner på en episk en-dag odyssey med dårlige beslutninger. Cast: Jacob Tremblay, Keith L. Williams, Brady Noon, Molly Gordon, Midori Francis, Josh Caras (Verdenspremiere)
The Highwaymen
The Highwaymen
Direktør: John Lee Hancock, Skribent: John Fusco
Texas Ranger Frank Hamer reflekterer over, hvad der gjorde ham til en stor advokat, da han kommer ud af pension for at jage Bonnie og Clyde. Cast: Kevin Costner, Woody Harrelson, Kathy Bates, Kim Dickinson (Verdenspremiere)
Pet Sematary
Pet Sematary
Direktører: Kevin Kölsch og Dennis Widmyer, Skribent: Jeff Buhler
Baseret på Stephen Kings skuespilleroman. Den nye Pet Sematary trailer præsterer online i morgen! Klik her for at være en af ​​de første til at se den. Cast List: Jason Clarke, Amy Seimetz, Jeté Laurence, Hugo Lavoie, Lucas Lavoie, John Lithgow
Stuber (Work-in-Progress)
Stuber (Work-in-Progress)
Direktør: Michael Dowse, Skribent: Tripper Clancy
Når en uhyggelig Uber-driver (Kumail Nanjiani) opfanger en politiker (Dave Bautista), der er hot på sporet af en brutal morder, har han trukket ind i en harrowing prøvelse, hvor han er nødt til at holde sine wits, hans liv og hans fem-stjernede rating . Cast: Kumail Nanjiani, Dave Bautista, Iko Uwais, Natalie Morales, Betty Gilpin, Jimmy Tatro, med Mira Sorvino og Karen Gillan
Udennavnet Seth Rogen / Charlize Theron Comedy
Direktør: Jonathan Levine, Skribent: Dan Sterling
En ambitiøs diplomat med et uplettede omdømme og en hårdtspændende journalist omdefinerer hilarisk "internationale relationer", da de forsøger at holde deres røde, varme romantik under omslag. Cast: Seth Rogen, Charlize Theron, O'Shea Jackson Jr., Andy Serkis, juni Diane Raphael, Ravi Patel og Alexander Skarsgård (verdenspremiere)
Us
Us
Direktør / Screenwriter: Jordan Peele
Et oprindeligt mareridt fra Oscar-vinderen Jordan Peele ( Get Out ), med hovedrollen Lupita Nyong'o og Winston Duke, bringer Us en gennemsnitlig amerikansk familie mod en skræmmende modstander: Doppelgängers af sig selv. Cast: Lupita Nyong'o, Winston Duke, Elisabeth Moss, Tim Heidecker, Yahya Abdul-Mateen II, Anna Diop, Evan Alex, Shahadi Wright-Joseph, Madison Curry, Cali Sheldon
NARRATIVE FEATURE COMPETITION
Alice (Frankrig)
Direktør / Screenwriter: Josephine Mackerras
Hun gjorde alt rigtigt, indtil alt gik galt. Cast: Emilie Piponnier, Martin Swabey, Chloe Boreham (verdenspremiere)
Extra Ordinary (Belgien)
Direktører / Screenwriters: Mike Ahern, Enda Loughman
Rose, en for det meste søde og for det meste ensomme småby-kørelærer, skal bruge sit overnaturlige talent for at redde Martins datter (også for det meste sødt og ensomt) fra en skyllet rockstar, der bruger hende i en satanisk pagt, der vil genvinde hans berømmelse. Cast: Maeve Higgins, Barry Ward, Will Forte, Claudia Doherty (verdenspremiere)
Go Back to China (Kina, USA)
Direktør / Screenwriter: Emily Ting
Efter den forkælet rige pige, Sasha Li (Anna Akana) blæser gennem halvdelen af ​​sin tillidsfond, bliver hun afskåret af sin far (Richard Ng) og tvunget til at gå tilbage til Kina og arbejde for familiens legetøjsvirksomhed. Cast: Anna Akana, Richard Ng, Lynn Chen, Kelly Hu, Kendy Cheung, Aviva Wang (verdenspremiere)
Mickey and the Bear
Mickey and the Bear
Direktør / Screenwriter: Annabelle Attanasio
Ansigtet med ansvaret for at tage sig af sin narkoman, veteran far, holder den hovede teen Mickey Peck hendes husstand flydende. Når hun har mulighed for at forlade sig godt, skal hun vælge mellem familiemæssig forpligtelse og personlig opfyldelse. Cast: Camila Morrone, James Badge Dale, Calvin Demba, Ben Rosenfield, Rebecca Henderson (Verdenspremiere)
Ms. White Light
Ms. White Light
Direktør / Screenwriter: Paul Shoulberg
Lex Cordovas forretning er ved at dø. Hun har en unik evne til at forbinde med sine klienter, der er terminalt syge. Det er bare alle andre, at hun har et problem med. Valerie er ikke en kvæle kvinde, der elsker at leve sit liv. Hendes eneste vej ud er gennem Lex. Cast: Roberta Colindrez, John Ortiz, Judith Light, Carson Meyer, Zachary Spicer (Verdenspremiere)
Pig Hag
Pig Hag
Direktører: Sam Probst, Colby Holt, Screenwriter: Colby Holt
Jodie, en kvinde i midten af ​​trediverne, kæmper med presset for at finde en partner og få børn. Når hun deltager i en Guns N 'Roses koncert, mener hun, at hun måske har mødt en potentiel kamp - indtil han straks spøgelser på hende. Cast: Anna T Schlegel, Tony Jaksha, Pete Zias, Michael Henry, Nate Stoner, Maxwell Esposito, Amanda DeSimone, Alex Myerchin, Andrew Kudla (Verdenspremiere)
Porno
Porno
Direktør: Keola Racela, Skribenter: Matt Black, Laurence Vannicelli
Når en gruppe naive teenagere, der arbejder på en biograf i en lille kristen by, opdager en mystisk film gemt i kælderen, frigiver de en forlængende succubus, der giver dem en sexundervisning ... skrevet i blod. Cast: Evan Daves, Larry Saperstein, Jillian Mueller, Glenn Stott, Robert Tann, Bill Phillips, Katelyn Pearce, Peter Reznikoff (Verdenspremiere)
Saint Frances
Saint Frances
Direktør: Alex Thompson, Skribent: Kelly O'Sullivan
I begyndelsen af ​​sommeren har Bridget en abort, da hun lander et tiltrængt job i velhavende Evanston, Illinois - ved at tilnærme en seksårig. Cast: Ramona Edith Williams, Kelly O'Sullivan, Lily Mojekwu, Charin Alvarez, Jim True-Frost, Max Lipchitz, Mary Beth Fisher, Francis Guinan, Bradley Grant Smith (verdenspremiere)
South Mountain
South Mountain
Direktør / Screenwriter: Hilary Brougher
Når hendes teenagere går ud i lejren og hendes mand pludselig efterlader hende til at starte en ny familie, er Lila tilbage til sine egne nysgerrige og kaotiske enheder til en sommer i hendes landsted i Catskill-bjergene. Cast: Talia Balsam, Scott Cohen, Andrus Nichols, Michael Oberholtzer, Naian Gonzalez, Midori Francis, Macaulee Rusnak Cassaday, Isis Masoud, Violet Rea, Guthrie Masse (Verdenspremiere)
Yes, God, Yes
Yes, God, Yes
Direktør / Screenwriter: Karen Maine
Efter en uskyldig AOL-chat bliver racy, opdager en katolsk teenager i begyndelsen af ​​00'erne onanering og kæmper for at undertrykke sine opfordringer i forbindelse med evig fordømmelse. Cast: Natalia Dyer, Timothy Simons, Wolfgang Novogratz, Francesca Reale, Susan Blackwell, Parker Wierling, Alisha Boe, Donna Lynne Champlin (Verdenspremiere)
NARRATIVE SPOTLIGHT
Adopt a Highway
Adopt a Highway
Direktør / Screenwriter: Logan Marshall-Green
Efter at være blevet frigivet fra fængsel efter en tyve års straf for en mindre lovovertrædelse, må en ex-con lære at navigere verden samtidig med at man kommer til udtryk med sit eget liv, der har bevæget sig - alt imens han sørger for en forladt baby, finder han i en dumpster . Cast: Ethan Hawke, Elaine Hendrix, Diana Gaeta Marshall-Green, Betty Gabriel, Mo McRae, Chris Sullivan, Nate Mooney, Christopher Heyerdahl, Anne Marie Johnson (verdenspremiere)
The Art of Self-Defense
The Art of Self-Defense
Direktør / Screenwriter: Riley Stearns
The Art of Self-Defense stjerner Jesse Eisenberg og er sat i karate-verdenen. Eisenberg spiller en mand, der er angrebet på gaden og anlister i en lokal dojo ledet af en karismatisk Sensei (Nivola) i et forsøg på at lære at forsvare sig. Cast: Jesse Eisenberg, Alessandro Nivola, Imogen Poots (World Premiere)
Come As You Are
Come As You Are
Direktør: Richard Wong, Skribent: Erik Linthorst
Tre unge handicappede går ind på en biltur til en bordel i Montreal, der sørger for personer med særlige behov for at miste deres jomfruelighed og omfavne deres uafhængighed. Inspireret af en sand historie og genindspilning af den belgiske film Hasta La Vista . Cast: Grant Rosenmeyer, Hayden Szeto, Ravi Patel, Gabourey Sidibe, Janeane Garofalo, CS Lee, Jennifer Jelsema, Martha Kuwahara, Delaney Feener, Asta Philpot (Verdenspremiere)
The Day Shall Come (Det Forenede Kongerige, USA)
Direktør: Chris Morris, Skribenter: Chris Morris, Jesse Armstrong
En fattig prædikant, der bringer håb til Miami-projekterne, tilbydes kontant for at redde sin familie fra udsættelse. Han har ingen anelse om, at hans sponsor arbejder for FBI, som har til hensigt at gøre ham til en kriminel ved at brænde sine madcap revolutionære drømme. Cast: Marchánt Davis, Anna Kendrick, Danielle Brooks, Denis O'Hare (World Premiere)
Frances Ferguson
Frances Ferguson
Direktør: Bob Byington, Screenwriter: Scott King
En lille bys reaktion på skandalen. Cast: Kaley Wheless, Nick Offerman, Keith Poulson, David Krumholtz (Verdenspremiere)
I'm Just F*cking With You
I'm Just F*cking With You
Direktør: Adam Mason, Screenwriters: Gregg Zehenter, Scott Barkan
En ung mand og hans søster udholde en nat af stadig skræmmende praktiske vittigheder, mens de overnatter på et afsides motel. Cast: Keir O'Donnell, Hayes MacArthur, Jessica McNamee (verdenspremiere)
Mother's Little Helpers
Mother's Little Helpers
Direktør / Screenwriter: Kestrin Pantera
Når Joy Pride udløser en groovy 70's udbrænding på blomsterkraftbevægelsens caboose, lærer hun, at hun har uger til at leve, hendes fremmedgjorte børn kommer sammen for at gøre det rigtigt af en mor, der altid har gjort dem forkerte. Cast: Breeda Uld, Melanie Hutsell, David Giuntoli, Sam Littlefield, Kestrin Pantera (Verdenspremiere)
Olympic Dreams
Olympic Dreams
Direktør: Jeremy Teicher, Skribenter: Alexi Pappas, Jeremy Teicher, Nick Kroll
I idrætsbyen ved de olympiske vinterspil, Penelope (Alexi Pappas), en langrendsløjper, vender sig til Ezra (Nick Kroll), en frivillig tandlæge, efter en skuffende finish i hendes løb. Penelope og Ezra deler en særlig men begrænset tid sammen. Cast: Nick Kroll, Alexi Pappas, Gus Kenworthy, Morgan Schild, Jamie Anderson (Verdenspremiere)
The Peanut Butter Falcon
The Peanut Butter Falcon
Direktører / Screenwriters: Tyler Nilson, Michael Schwartz
En ung mand med Downs syndrom løber væk fra pensionatet, hvor han bor for at jage hans drøm om at blive professionel bryder. Cast: Shia LaBeouf, Dakota Johnson, Zack Gottsagen, John Hawkes, Bruce Dern, Thomas Haden Kirke, Jon Bernthal, Jake "The Snake" Roberts, Mick Foley (World Premiere)
Pink Wall (Det Forenede Kongerige)
Direktør / Screenwriter: Tom Cullen
Seks scener. Seks år. Seks øjeblikke, der dannede forholdet mellem Jenna og Leon. Pink Wall undersøger, hvad der definerer os, trykket af kønsforventninger og vores evige kamp mellem liv og ambition. Cast: Tatiana Maslany, Jay Duplass (verdenspremiere)
Run This Town (Canada)
Direktør / Screenwriter: Ricky Tollman
En politisk assistent forsøger at korralere sin uhyrlige, utrolige chef, når en ung forsker ved en avis får ord af en skandale, der kan gøre eller ødelægge begge deres karriere. Cast: Ben Platt, Nina Dobrev, Mena Massoud, Damian Lewis, Jennifer Ehle, Scott Speedman (Verdenspremiere)
Sword of Trust
Sword of Trust
Direktør: Lynn Shelton, Skribent: Lynn Shelton, Mike O'Brien
En curmudgeonly pawnshop ejer og hans mand-barn sidekick hold op med en ud af byen par til at indbetale på en familie arvestykke: et sværd troet af alt historie sammensværgelsen nødder for at være bevis for, at Syd vandt borgerkrigen. Cast: Marc Maron, Jon Bass, Michaela Watkins, Jillian Bell, Toby Huss, Dan Bakkedahl, Tim Paul, Whitmer Thomas (verdenspremiere)
Villains
Villains
Direktører / Screenwriters: Dan Berk, Robert Olsen
Når et par amatørkriminelle bryder ind i et forstæderhjem, snuble de over en mørk hemmelighed og to sadistiske husejere, der vil gøre alt for at holde det ude at komme ud. Cast: Bill Skarsgard, Maika Monroe, Kyra Sedgwick, Jeffrey Donovan (Verdenspremiere)
The Wall of Mexico (USA, Mexico)
Direktører: Zachary Cotler, Magdalena Zyzak, Skribent: Zachary Cotler
En ung hvid håndværker, der er ansat af en velhavende mexicanske-amerikansk familie til at opretholde deres ranch, finder sig fanget mellem utilfredse lokalbefolkningen og familiens skandaløse dekadente døtre og opdager, at der sker noget usædvanligt på ranchen. Cast: Jackson Rathbone, Esai Morales, Marisol Sacramento, Carmela Zumbado, Alex Meneses, Moises Arias, med Mariel Hemingway og Xander Berkeley (World Premiere)
DOCUMENTARY FEATURE COMPETITION
DOCUMENTARY FEATURE COMPETITION

Ernie & Joe
Ernie & Joe
Direktør: Jenifer McShane
Ernie & Joe følger to officerer med San Antonio Police Department mental sundhed enhed, der omdirigerer folk væk fra fængsel og til mental sundhed behandling - en 911 opkald ad gangen. (Verdenspremiere)
For Sama (Det Forenede Kongerige)
Direktører: Waad al-Khateab, Edward Watts
For Sama fortæller den episke historie om en ungs kvindes rejse gennem kærlighed, krig og moderskab i løbet af fem års opstand i Aleppo, Syrien. (Verdenspremiere)
Museum Town
Museum Town
Direktør: Jennifer Trainer, Screenwriters: Noah Bashevkin, Pola Rapaport, Jennifer Trainer
Fra asken i en forladt fabrik er der et ambitiøst center for samtidskunst. Med MASS MoCA finder en kendt historie om deindustrialisering i en landlig amerikansk by en ukonventionel rute til genopretning. (Verdenspremiere)
Nothing Fancy: Diana Kennedy (Det Forenede Kongerige, USA)
Direktør: Elizabeth Carroll
Prisbelønnet kogebog forfatter, diehard miljøforkæmper og feisty britisk nonagenarian Diana Kennedy reflekterer over et ukonventionelt liv brugt mastering køkkenerne i Mexico. (Verdenspremiere)
Stuffed (Canada, USA)
Direktør: Erin Derham
Stuffed er en dokumentarfilm om den overraskende verden af ​​taxidermi og de lidenskabelige kunstnere over hele verden, der ser livet, hvor andre kun ser døden. (Verdenspremiere)
Tread
Tread
Direktør: Paul Solet
Skubbet til sit brydepunkt, befæstes en mestersvæver i en lille by ved foden af ​​de bjergrige bjerge en bulldozer med 30 tons beton og stål og forsøger at ødelægge dem, som han mener har forurettet ham. (Verdenspremiere)
Vision Portraits
Vision Portraits
Direktør / Screenwriter: Rodney Evans
En dokumentlængde med dokumentlængde, der krøniker kreative stier for blinde og synskadede kunstnere, herunder en fotograf (John Dugdale), danseren (Kayla Hamilton), forfatteren (Ryan Knighton) og filmens direktør Rodney Evans. (Verdenspremiere)
We Are The Radical Monarchs
We Are The Radical Monarchs
Direktør: Linda Goldstein Knowlton
Mød de radikale monarker, en gruppe af unge piger af farve på forsiden af ​​social retfærdighed. Set i Oakland dokumenterer filmen rejsen i gruppen, da de danner, vokser og tjener badges til enheder som "Black Life Matter" og "Radical Beauty" (verdenspremiere)
Well Groomed
Well Groomed
Direktør / Screenwriter: Rebecca Stern
Well Groomed rejser den humoristiske, visuelt forbløffende verden af ​​konkurrencedygtig kreativ hundepasning sammen med de farverige kvinder, der omdanner deres elskede pudler til levende skulpturer. (Verdenspremiere)
Why Can't I Be Me? Around You
Why Can't I Be Me? Around You
Why Can't I Be Me? Around You
Direktører / Screenwriters: Harrod Blank, Sjoerd Dijk
Rusty, en mandlig race entusiast, beslutter på 53 for at få bryster. Hans far reducerer hans løn, hans motorcykelvenner forlader ham, og de kvinder, han daterer alle, forkaster ham. Rusty forfølger sin nye identitet og håber kun at få accept fra andre. (Verdenspremiere)
DOCUMENTARY SPOTLIGHT
DOCUMENTARY SPOTLIGHT

Any One Of Us
Any One Of Us
Direktør: Fernando Villena
Gennem den genopfriske atletes inspirerende rejse giver Any One of Us et hidtil uset indblik i den traumatiske verden af ​​rygmarvsskader. (Verdenspremiere)
Autonomy
Autonomy
Direktør: Alex Horwitz
En dokumentarfilm om den fremvoksende teknologi for selvkørende køretøjer og de store spørgsmål, de rejser: Hvad er kontrol, og hvem bliver vi som vi overgiver det til maskiner? (Verdenspremiere)
Bellingcat - Sandhed i en post-sandhedsverden (Holland)
Direktør / Screenwriter: Hans Pool
Bellingcat - Sandheden i en post-sandhed Verden udforsker den eksklusive verden af ​​Bellingcat, en højtuddannet og kontroversiel kollektive af "borgerundersøgende journalister" dedikeret til at omdefinere nyheder i det 21. århundrede. (Nordamerikanske premier)
Breakthrough
Breakthrough
Direktør / Screenwriter: Bill Haney
Breakthrough fortæller historien om en renegad, blues-spiller, nobelprisvindende Texas-videnskabsmand, der skabte en kur mod verdens dødbringende sygdom. Beregnet af Woody Harrelson med et country-blues soundtrack. (Verdenspremiere)
Building the American Dream
Building the American Dream
Direktør: Chelsea Hernandez
I Texas står byggearbejdere over for de dødbringende forhold i landet. Building the American Dream følger tre indvandrerfamilier, der stiger op for at søge retfærdighed og ligestilling i en industri med udnyttelse. (Verdenspremiere)
Community First, A Home for the Homeless
Community First, A Home for the Homeless
Direktør: Layton Blaylock
Community First, A Home for the Homeless , er en dokumentarfilm om et helt unikt koncept til at begrænse hjemløshed. Opfattet og skabt i Austin, Texas, Fællesskabet først! Village er virkelig at omdanne livet for hjemløse. (Verdenspremiere)
Human Nature
Human Nature
Direktør: Adam Bolt, Skribenter: Adam Bolt, Regina Sobel
En videnskabelig opdagelse, der hedder CRISPR en gang i livet, giver os mulighed for at ændre hvad det betyder at være menneske. Nu er det op til os at beslutte, hvor langt vi skal gå. (Verdenspremiere)
I Am Richard Pryor
I Am Richard Pryor
Direktør / Screenwriter: Jesse James Miller
I Am Richard Pryor fortæller livsfortællingen om den legendariske performer og den ikoniske sociale satirist, der transcenderede race og sociale barrierer ved at levere sin ærlige irriterende og bidende humor til Amerikas stadier og stuer indtil hans død på 65. (Verdenspremiere)
Jeg elsker dig, nu dø: The Commonwealth Vs. Michelle Carter
Direktør: Erin Lee Carr
Teen Michelle Carters handlinger chokerede en nation - men hvad skete der virkelig efter lukkede døre? Denne HBO-specialfremviser viser retsforfølgelsens synspunkt og skiftevis forsvarets. Hvilken side falder du på? (Verdenspremiere)
It Started As a Joke
It Started As a Joke
Direktører: Julie Smith Clem, Ken Druckerman
It Started As a Joke dokumenterer Eugene Mirman Comedy Festival den årti lange runde. Filmen fejrer Eugeses unikke humor og minder os om komediens helbredende egenskaber - selv i de mest udfordrende forhold i livet. (Verdenspremiere)
Jump Shot
Jump Shot
Direktør: Jacob Ryan Hamilton
Jump Shot afslører den inspirerende sande historie om Kenny Sailors, udvikleren af ​​det moderne hoppeskud i basketball, og hvordan han definerede spillet, men hvorfor spillet aldrig definerede ham. (Verdenspremiere)
Kathy Griffin: A Hell of a Story
Kathy Griffin: A Hell of a Story
Direktør: Troy Miller, Skribent: Kathy Griffin
I sin første komediekonsolfilm beskriver komiker Kathy Griffin eftervirkningen af ​​tabt arbejde og er genstand for en føderal undersøgelse efter udgivelsen af ​​hendes nu berygtede foto, der skildrer præsident Donald J Trump. (Verdenspremiere)
Qualified
Qualified
Direktør: Jenna Ricker
I verden af ​​motorsport er Indianapolis 500 længe blevet betragtet som det eneste løb. I maj 1977 tjente Janet Guthrie - den første kvinde til at prøve Indy - en plet i det prestigefyldte felt på 33. (Verdenspremiere)
Red Dog
Red Dog
Direktører: Casey Pinkston, Luke Dick
I begyndelsen af ​​1980'erne var den eneste familie, som småbarn Luke vidste, stripperne, bouncers og outcasts, der gjorde OKCs rædselstripe klubben deres hjem. (Verdenspremiere)
The River and the Wall
The River and the Wall
Direktør: Ben Masters
Fem venner venture ind i de ukendte vildt i Texas grænser for at dokumentere miljøet, før en mur er bygget. Da ørkenen giver plads til den travle Rio Grande-dalen, støder de på det uventede og går ind i uklarte følelsesmæssige farvande. (Verdenspremiere)
Running with Beto
Running with Beto
Direktør: David Modigliani
Følg Beto O'Rourke bag scenerne i hans afbrudte kampagne for at fjerne Ted Cruz i den amerikanske senat. Med intim adgang til kandidaten, hans familie og team, indfanger filmen Betos stigning fra en virtuel ukendt til en national politisk sensation. (Verdenspremiere)
Salvage
Salvage
Direktør: Amy C. Elliott
The Yellowknife dump og dens massive ubegrænsede bjærgningsområde har længe spillet en central rolle i denne fjerntliggende canadiske bys borgerlige og sociale liv. Kan en farverig gruppe sparsomme lokalbefolkningen redde den fra bybureaukrater, der er fast besluttet på at lukke den ned? (Verdenspremiere)
State of Pride
State of Pride
Direktør / Screenwriters: Rob Epstein, Jeffrey Friedman
Fifty years after the Stonewall uprising, Oscar winning filmmakers Rob Epstein and Jeffrey Friedman travel to three diverse communities – Salt Lake City, San Francisco, and Tuscaloosa, Alabama – for an unflinching look at LGBTQ Pride. (World Premiere)
Sunset over Mulholland Drive (Germany)
Director: Uli Gaulke, Screenwriters: Uli Gaulke, Marc Pitzke
The vital power of creativity — a behind the scenes look into Hollywood's retirement home. (North American Premiere)
24 BEATS PER SECOND

Amazônia Groove
Director/Screenwriter: Bruno Murtinho
Leaving Belem and crossing much of the Para State Amazon region, its towns and riverside villages, Amazônia Groove reveals artists and their traditions, faith and mysticism, music and life that pound in the northern region of Brazil. (North American Premiere)
Bluebird
Director: Brian Loschiavo
Discover the origin stories of megastars like Garth Brooks and Taylor Swift while following emerging singer-songwriters as they chase their dreams inside The Bluebird Cafe, Nashville's accidental landmark that has altered the course of music history. (World Premiere)
The Boy Band Con: The Lou Pearlman Story
Director: Aaron Kunkel
The Boy Band Con: The Lou Pearlman Story charts the life and crimes of boy band impresario Lou Pearlman. The film tracks his life from discovering NSYNC and Backstreet Boys, to his perpetration of one of the largest ponzi schemes in US history. (World Premiere)
Boy Howdy! The Story of CREEM Magazine
Director: Scott Crawford, Screenwriters: Scott Crawford, Jaan Uhelszki
Ripping back the curtain on legendary rock rag CREEM Magazine 's wild and disruptive newsroom; a dysfunctional band of unruly outsiders who weren't all that different from the artists they covered. (World Premiere)
Brainiac: Transmissions After Zero
Director: Eric Mahoney
The film explores the seminal 90's band Brainiac from Dayton, OH and its creative force Tim Taylor. Just days before signing a major record contract Taylor was killed in a bizarre auto accident leaving his family and bandmates to pick up the pieces. (World Premiere)
Carmine Street Guitars (Canada)
Director: Ron Mann, Screenwriter: Len Blum
Five Days in the life of Greenwich Village guitar shop Carmine Street Guitars.
The Chills: The Triumph and Tragedy of Martin Phillipps (New Zealand)
Director: Julia Parnell, Rob Curry
New Zealand music genius Martin Phillipps fights his creative demons, conquers the music world, inspires a generation, and then retreats into depression, addiction and anonymity. (World Premiere)
David Crosby: Remember My Name
Director: AJ Eaton
David Crosby reflects on his life of music stardom, while forging new paths to relevancy at his age of 77 in this deeply personal documentary. (World Premiere)
Everybody's Everything
Directors: Sebastian Jones, Ramez Silyan
Everybody's Everything is the story of artist Lil Peep (Gustav Ahr) from his birth in Long Island and meteoric rise as a genre blending pop star & style icon, to his death due to an accidental opioid overdose in Arizona at just 21 years of age. (World Premiere)
The Gift: The Journey of Johnny Cash
Director: Thom Zimny, Screenwriter: Warren Zanes
Johnny Cash stands among the giants of 20th century American life. But his story remains tangled in mystery and myth. This documentary brings Cash the man out from behind the legend. (World Premiere)
Iris: A Space Opera by Justice (France)
Directors: Andre Chemetoff, Armand Beraud
Iris is a film adaptation of Justice's Woman World Wide live show from 2017-2018, which is widely regarded as the greatest live electronic concert created. Recorded in an empty and invisible space, Iris focuses on the impressive production and music. (World Premiere)
Mr. Jimmy
Director: Peter Michael Dowd
Dowd Akio Sakurai has dedicated his life to honoring Jimmy Page. For 30 years he recreated vintage Zeppelin concerts note-for-note in small Tokyo clubs. Moving to LA to pursue his tribute dream, cultures clash and Akio's idyllic vision meets reality. (World Premiere)
Nothing Stays The Same: The Story of The Saxon Pub
Director: Jeff Sandmann, Screenwriters: Jeff Sandmann, Jeffrey Brown, Lisa Kay Pfannenstiel
Nothing Stays the Same celebrates the last 30 years of live music in Austin, while also examining the challenges faced by musicians and music venues in one of the fastest-growing cities in the country, all through the lens of the legendary Saxon Pub. (World Premiere)
Show Me The Picture: The Story of Jim Marshall (United Kingdom)
Director: Alfred George Bailey
Jim Marshall was a maverick with a camera. An outsider who captured the heights of Rock'N'Roll music and the seismic changes of an era, from the Beatles and Jimi Hendrix, to the civil rights movements and some of the most iconic moments of the 60's. (World Premiere)
Strange Negotiations
Director: Brandon Vedder
A documentary exploring the existential, artistic and family life of musician and former evangelical, David Bazan (Pedro The Lion), set against America's own crisis of faith highlighted during the 2016 presidential election. (World Premiere)
Teen Spirit (United Kingdom)
Director/Screenwriter: Max Minghella
The film follows Violet, a shy teenager who enters an international singing competition with the help of an unlikely mentor. Driven by a pop-fueled soundtrack, Teen Spirit is a visceral and stylish spin on the Cinderella story. Cast: Elle Fanning, Zlatko Buricteent, Rebecca Hall (US Premiere)
Who Let The Dogs Out (Canada)
Director: Brent Hodge, Screenwriters: Brent Hodge, John Diemer, Jasleen Kaur<
The origin story of the smash hit "Who Let the Dogs Out" goes back further than anyone could have imagined; steeped in legal battles, female empowerment and artist integrity, which beckons the question: will we ever know who let the dogs out? (World Premiere)
Wild Rose (United Kingdom)
Director: Tom Harper, Screenwriter: Nicole Taylor
A musician from Glasgow dreams of becoming a Nashville star. Cast: Jessie Buckley, Julie Walters, Sophie Okonedo (US Premiere)
VISIONS
Becoming Leslie
Director: Tracy Frazier, Screenwriters: Sandra Guardado, Tracy Frazier
Becoming LESLIE reveals the inner and bizarre world of Leslie Cochran, a cross-dressing homeless misfit who became the most iconic and unlikely civic symbol of Austin, Texas. (World Premiere)
The Garden Left Behind
Director: Flavio Alves, Screenwriters: John Rotondo, Flavio Alves
A Mexican trans woman struggles to build a life for herself as an undocumented immigrant in New York City. Cast: Michael Madsen, Ed Asner, Carlie Guevara, Danny Flaherty, Alex Kruz, Anthony Abdo, Dawn Young, Tamara M. Williams, Miriam Cruz, Brock Yurich (World Premiere)
JR "Bob" Dobbs and The Church of the SubGenius
Director: Sandy K Boone, Screenwriters: Sandy K Boone, Jason Wehling
This film explores the underground movement that has galvanized the imaginative, the artistic, the nerdy, even the deranged – to examine the simmering dystopia in their culture, and do absolutely nothing about it... except, maybe, poke fun at it all. (World Premiere)
Jezebel
Director/Screenwriter: Numa Perrier
A true story. In the last days of her mother's life, 19-year-old Tiffany crashes with five family members in a Las Vegas studio apartment. In order to make ends meet, her sister, a phone sex operator, introduces her to the world of fetish cam girls. Cast: Tiffany Tenille, Numa Perrier, Stephen Barrington, Bobby Field, Brett Gelman, Rockwelle Dortch, Zoe Tyson, Dennis Jaffee, Jessa Zarubica (World Premiere)
Leave the Bus Through the Broken Window (Hong Kong, US)
Director: Andrew Hevia
A broken-hearted filmmaker navigates an unfamiliar city, an international art fair and his personal baggage in this intimate, playful and unexpectedly comedic documentary. (World Premiere)
One Man Dies a Million Times (Belarus)
Director/Screenwriter: Jessica Oreck
Set in the future, a story about seeds and genetic diversity, about growth and decay, about love and war, and about hunger of all kinds. Cast: Alyssa Lozovskaya, Maksim Blinov (World Premiere)
Red 11
Director: Robert Rodriguez, Screenwriters: Robert Rodriguez, Racer Rodriguez
Rob, an independent filmmaker, loses his investor's money only to find out his investors are the Cartel. He checks himself into a medical research facility to pay off his debt, but quickly realizes it won't be that easy. Cast: Roby Attal, Lauren Hatfield, Carlos Gallardo, Alejandro Rose Garcia, Rebel Rodriguez, Racer Rodriguez, Eman Esfandi, Steven Brudniak, Brently Heilbron, Pierce Foster Bailey (World Premiere)
Romantic Comedy (United Kingdom)
Director: Elizabeth Sankey
Musician and writer Elizabeth Sankey investigates the past, present and future of romantic comedies, assisted by a chorus of critics, actors and filmmakers. (World Premiere)
Sakawa (Belgium, Netherlands)
Director/Screenwriter: Ben Asamoah
What human story lies behind the phenomenon of 'internet fraud'? In Sakawa we meet three Ghanaian youngsters who, out of desperation, turn to internet scamming with the help of black magic. (North American Premiere)
Tito (Canada)
Director/Screenwriter: Grace Glowicki
A desperate man seeks refuge from the predators hunting him by befriending a cheerful intruder. Cast: Grace Glowicki, Ben Petrie (World Premiere)
EPISODIC PREMIERES
David Makes Man
Showrunner: Dee Harris-Lawrence, Screenwriter: Tarell Alvin McCraney
A richly layered, deeply personal work about a 14-year-old prodigy from the projects who is haunted by the death of his closest friend. Set in South Florida, the series is inspired by events in McCraney's own life, exploring childhood trauma and the power of imagination. Cast: Akili McDowell, Nathaniel McIntyre, Isaiah Johnson, Ade Chike Torbert, Cayden Williams, Jordan Bolger, Travis Coles, Phylicia Rashad, Alana Arenas (World Premiere)
NOS4A2
Showrunner/Screenwriter: Jami O'Brien
NOS4A2 introduces Vic, a young woman who has a supernatural ability to find lost things. This ability puts her on a collision course with the evil and immortal Charlie Manx, a supernatural villain who feeds off the souls of children. Cast List: Zachary Quinto, Ashleigh Cummings, Jahkara J. Smith, Olafur Olafsson, Virginia Kull, Ebon Moss-Bachrach (World Premiere)
Ramy
Showrunner: Bridget Bedard, Screenwriter: Ramy Youssef
Ramy, a first generation American Muslim on a spiritual journey, explores the challenges of being caught in between an Egyptian community that thinks life is moral a test, and a millennial generation that thinks life has no consequences. Cast: Ramy Youssef, Mohammed Amer, Hiam Abbass, Amr Waked, May Calamawy, David Merheje, Laith Nakli, Steve Way (World Premiere)
Shrill
Showrunner: Alexandra Rushfield, Screenwriters: Alexandra Rushfield, Lindy West and Aidy Bryant
From Executive Producers Lorne Michaels and Elizabeth Banks comes Shrill , a comedy series starring Aidy Bryant ( Saturday Night Live ) as Annie, a fat young woman who wants to change her life — but not her body. Annie is trying to start her career while juggling bad boyfriends, a sick parent, and a perfectionist boss. Cast: Aidy Bryant, Lolly Adefope, Luka Jones, Ian Owens, John Cameron Mitchell (World Premiere)
What We Do in the Shadows
Showrunners: Jemaine Clement, Paul Simms, Screenplay: Jemaine Clement
Based on the feature film of the same name from Jemaine Clement and Taika Waititi, FX's new comedy What We Do in the Shadows follows vampire roommates who have lived together for hundreds and hundreds of years. Cast: Matt Berry, Kayvan Novak, Natasia Demetriou, Harvey Guillén, Mark Proksch (World Premiere)
SPECIAL EVENTS

Broad City Finale Screening
Created by, written by and starring Abbi Jacobson and Ilana Glazer, the critically acclaimed Broad City follows Abbi and Ilana as they navigate life in New York, capturing their hookups, relationships, crappy jobs, and, ultimately, their badass friendship. In the final season, Ilana starts her own business and learns about her ancestors, while Abbi turns 30 and...tries to pull off a hat. And finally, we say goodbye to Abbi, Ilana and this iconic series. Join Abbi and IIana for a special sneak screening of the final three episodes of the series. Cast: Abbi Jacobson, Ilana Glazer, Arturo Castro, John Gemberling, Hannibal Buress, Paul W. Downs, Susie Essman .
Cobra Kai Season 2 Outdoor Screening
We are proud to present a special screening of the second season of Cobra Kai , the hit YouTube Premium Original Series, starring Ralph Macchio and William Zabka. Exclusively premiering at SXSW, YouTube and Sony Pictures Television will screen the first two episodes of the second season followed by a Q&A panel with series stars Ralph Macchio (Daniel LaRusso), William Zabka (Johnny Lawrence) and Martin Kove (Kreese) along with the Cobra Kai series creators and executive producers Josh Heald, Jon Hurwitz and Hayden Schlossberg.
Good Omens: The Nice and Accurate SXSW Event
Showrunner and best-selling author Neil Gaiman is joined by director Douglas Mackinnon and cast including Michael Sheen , David Tennant , and Jon Hamm to give attendees the most in-depth look at Good Omens to date and watch never-before-seen exclusive clips from the entire series. The six-episode series coming to Amazon Prime Video is based on the beloved satirical novel Good Omens: The Nice and Accurate Prophecies of Agnes Nutter, Witch by Terry Pratchett and Neil Gaiman. Good Omens is a dark, comedic story set in modern-day Britain that centers on a fussy angel Aziraphale (played by Sheen) and the loose-living demon Crowley (played by Tennant) as they join forces to prevent the coming of the Apocalypse.
How Rednecks Saved Hollywood with Joe Bob Briggs
Director/Screenwriter: Joe Bob Briggs
America's drive-in movie critic uses 200 video clips and photos to tell the 500-year history of the American redneck in a multimedia comedy performance.
Love, Death & Robots
Showrunners: David Fincher, Tim Miller, Josh Donen, Jennifer Miller
Love, Death & Robots , an animated anthology series presented by Tim Miller and David Fincher, is a genre orgy of Not-Suitable-For-Mainstream shorts. (World Premiere)
Followed by extended Q&A with with Tim Miller and David Fincher.
Ra: Path of the Sun God
Director: Lesley Keen
Austin based electronic and experimental label Holodeck Records is partnering with Austin Film Society for a special live re-score screening of the 1990 animated film Ra: Path of the Sun God, a beautiful re-telling of one of Ancient Egypt's most famous myths.
Rebel Without A Crew: Filmmaking Master Class with Robert Rodriguez
Join Robert Rodriguez as he gives a master-class in micro-budget guerilla filmmaking, featuring behind the scenes moments from his new $7,000 film, RED 11 . The event will be followed by the World Premiere of RED 11 .
Shangri-La ( Work-in-Progress)
Directors: Morgan Neville, Jeff Malmberg
An intimate look at the creative process through the lens of legendary music producer Rick Rubin.
True Stories
Director: David Byrne, Screenwriters: Stephen Tobolowsky, Beth Henley, David Byrne
David Byrne's 1986 musical comedy, inspired by theater director Robert Wilson, tabloid newspapers, and filmmakers Robert Altman and Federico Fellini, remains a unique artistic vision that celebrates the singular citizens of a fictional Texas town. David Byrne will appear in-person for Q&A following screening of new 4K restoration.
GLOBAL
Aleksi (Serbia)
Director/Screenwriter: Barbara Vekarić
A character piece about funny and troubled girl in her 20s, forced to move back in with her overbearing family. Cast: Tihana Lazović, Goran Marković, Sebastian Cavazza, Nataša Janjić, Jason Mann, Aljoša Vučović, Neda Arnerić, Leon Lučev (North American Premiere)
Aurora (Finland)
Director/Screenwriter: Miia Tervo
Aurora, a commitment-phobic party animal, meets Iranian Amir one night at a hot-dog stand in Lapland. Amir is running from death and Aurora is running from love. They need each other in order to finally stop running. Cast: Mimosa Willamo, Amir Escandari, Oona Airola, Hannu-Pekka Björkman, Miitta Sorvali (North American Premiere)
Being Impossible (Venezuela, Bolivarian Republic of)
Director: Patricia Ortega, Screenwriters: Patricia Ortega, Enmanuel Chávez
A young woman discovers she was submitted to several surgeries to correct her intersexual body as a baby. She has to find her own self outside gender binaries. (North American Premiere)
Cachada: The Opportunity (El Salvador)
Director/Screenwriter: Marlén Viñayo<
Five Salvadoran saleswomen want to take their cruel life stories to the stage. During the rehearsal process of their play, they'll discover themselves as victims and victimizers in a cycle of violence that has plagued their families for generations. (World Premiere)
Days of the Whale (Colombia)
Director/Screenwriter: Catalina Arroyave Restrepo
Two young graffiti artists of Medellín defy a criminal gang when they decide to paint the mural of a whale over a threat written in a wall. Cast: Laura Tobón, David Escallón, Carlos Fonnegra, Christian Tappan, Julián Giraldo, Natalia Castaño, Margarita Restrepo (World Premiere)
La Mala Noche (Ecuador, Mexico)
Director/Screenwriter: Gabriela Calvache
She is the perfect woman until she decides to be free. Cast: Nöelle Schönwald, Cristian Mercado, Jaime Tamariz, Ariana Freire (World Premiere)
Vai (New Zealand)
Directors: Nicole Whippy, 'Ofa-Ki-Levuka Guttenbeil-Likiliki, Matasila Freshwater, Amberley Jo Aumua, Mīria George, Marina Alofagia McCartney, Dianna Fuemana, Becs Arahanga
Vai is a portmanteau feature film by nine Polynesian directors and filmed on seven different pacific islands. It is about the journey of empowerment through culture, over the lifetime of one woman, Vai. (World Premiere)
X&Y (Denmark, Sweden)
Director: Anna Odell, Screenwriters: Anna Odell, Jakob Beckman
Swedish director and visual artist, Anna Odell (The Reunion), conducts a social experiment in which she aims to challenge the gender roles that men and women have in the society of today. Cast: Anna Odell, Mikael Persbrandt, Trine Dyrholm, Vera Vitali, Shanti Roney, Sofie Gråbøl, Jens Albinus, Thure Lindhardt (North American Premiere)
SHORTS PROGRAM
NARRATIVE SHORTS

Bodega
Director/Screenwriter: Rebecca Halfon
A Syrian deli owner and two teen girls with a fake ID find common ground on one winter night in Brooklyn. (World Premiere)
Framework (Switzerland)
Director: Jasmin Gordon, Screenwriter: Julien Bouissoux
It's summertime in rural France. A charismatic stranger happens upon three teenage boys. He has a gun in his car. Are they ready to go for a ride? (North American Premiere)
Fuck You (Sweden)
Director/Screenwriter: Anette Sidor
Alice is together with Johannes but she doesn't have enough space to be herself. On a night out with friends, she steals a strap-on and challenges her boyfriend's thoughts about girls.
Heroines
Director: Katia Badalian, Screenwriters: Sara Bower, Katia Badalian
A young girl with blooming awareness, Nina, interacts with her crass neighbor who explains the tangled world of intimacy and love. Drawing on her own experiences, Nina understands more than she thought.
Incel
Director/Screenwriter: John Merizalde
After countless failed attempts at finding love, a reclusive young man turns to an anonymous community of the "involuntarily celibate" for help, but instead finds himself increasingly pushed towards extremism.
The Jog
Director/Screenwriter: Joseph Lee Anderson
A man gets the news of a lifetime, but his morning jog doesn't go as planned. (World Premiere)
Lavender
Director/Screenwriter: Matthew Puccini
A young gay man grows increasingly entangled in the marriage of an older couple.
Liberty
Director/Screenwriter: Faren Humes
Alex and Milagros deal with great life upheaval as they prepare to dance at their community's redevelopment groundbreaking ceremony. (World Premiere)
Little Grey Bubbles (Canada)
Director/Screenwriter: Charles Wahl
Devastated by her best friend's death, Kim travels from NYC to Canada to attend his funeral. There she meets his family and friends and awkwardly tries to explain how she had never met him in person because their friendship was exclusively online. (North American Premiere)
Lockdown
Directors/Screenwriters: Celine Held, Logan George
Struggling with feelings for her best friend, 14 year-old Marie stages an almost perfect plan.
Manila is Full of Men Named Boy
Director: Andrew Stephen Lee, Screenwriters: Andrew Stephen Lee, Neda Jebelli, Emre Gulcan
An estranged son buys a child that can drink and smoke to impress his father. However, when the patriarch embraces his new grandson as the favorite, what determines who is more valuable of attention? (US Premiere)
May
Director/Screenwriter: Julian Turner
A weary white French professor and a young black drug dealer share an impalpable connection on a single night in Philadelphia. (World Premiere)
Milton
Director/Screenwriter: Tim Wilkime
A guy makes a bad first impression when he meets his girlfriend's family as they gather at her grandfather's deathbed. (World Premiere)
Nice Talking to You
Director: Saim Sadiq, Screenwriters: Saim Sadiq, Joseph Capotorto
Two strangers form a silent bond in the world's loudest city. (World Premiere)
The Orphan (Brazil)
Director/Screenwriter: Carolina Markowicz
Jonathas has been adopted but then returned due to his 'different' way. Inspired by true events.
Outdooring
Director/Screenwriter: Maxwell Addae
A young man attends his new nephew's baby naming ceremony with a plan to steal the money collected from family and friends to run away and keep a deep secret hidden from them. (World Premiere)
Snare (Australia)
Director: Madeleine Gottlieb, Screenwriters: Madeleine Gottlieb, James Fraser
It's 1997. Distorted guitars rule the world. In an ageing Chinese restaurant, a father and his punk-rock son struggle with their familial roles as they realise they each desperately need something from one other. (World Premiere)
Something Like Loneliness
Directors: Seth Epstein, Ben Epstein, Screenwriters; Seth Epstein, Ryan Dowler
Upstairs-downstairs neighbors barter sounds captured in food storage containers. With the sounds come fragments of past relationships and the hopes and disappointments that remain. (World Premiere)
Stepdaddy
Director: Lisa Steen, Screenwriter: Anna Greenfield
Two estranged friends rediscover their profound incompatibility over dinner, only to learn that the one thing they share might force them together, forever. (World Premiere)
Sundays
Director/Screenwriter: José Andrés Cardona
Jonny teaches Tommy how to drive.
Virgins4Lyfe (Norway)
Director: Thea Hvistendahl, Screenwriters: Sofia Lersol Lund, Thea Hvistendahl
The friendship of two Norwegian girls are put to the test. While one holiday in Southern Europe they both want to explore their own sexuality, but only one of them seem to succeed. (North American Premiere)
Washed Away
Director/Screenwriter: Ben Kallam
A teenage girl in an evangelical church youth group must deal with the fallout when her trust is publicly betrayed. (World Premiere)
Youth (Egypt)
Director/Screenwriter: Farida Zahran
A teenage girl takes a step toward adulthood in contemporary Cairo. (World Premiere)
DOCUMENTARY SHORTS

All Inclusive (Switzerland)
Director/Screenwriter: Corina Schwingruber Ilić
Under the spell of mass entertainment on the high seas.
Anas v. the Giant
Director: Adrienne Collatos
What happens when an 18-year-old who thought he had nothing more to lose, becomes embroiled in fake news on Facebook? (World Premiere)
Exit 12
Director: Mohammad Gorjestani
After two tours in Fallujah in the Iraq war, US Marine Roman Baca came home a different person. To deal with the effects of war, Roman turned to an unlikely place, ballet.
Ghosts of Sugar Land
Director: Bassam TariqIn
Sugar Land, Texas, a group of young Muslim-American men ponder the disappearance of their friend "Mark," who is suspected of joining ISIS.
Guns Found Here
Director: David Freid
A surprisingly non-fictional tragicomedy about how America traces a gun involved in a gun crime back to its owner.
In the Dark
Director: Jessie King
Reading isn't natural. It's a struggle for each of us to master, but those with dyslexia fight to read their entire lives. In the Dark is about performance, persistence and Phyllis, a woman in Austin, Texas, who says she can reverse dyslexia. (World Premiere)
Life in Miniature (United Kingdom)
Director: Ellen Evans
A celebration of one woman's mission to document the everyday, as she carves a place for herself in the precious world of miniatures.
Lowland Kids
Director: Sandra Winther
As climate change erases the Louisiana coast, the last two teenagers on Isle de Jean Charles fight to stay on an island that's been their family home for generations. (World Premiere)
The Separated
Director: Jeremy Raff
An unflinching look at one family's experience being forcibly separated at the US-Mexico border.
Trans In America: Texas Strong (United Kingdom, US)
Director: Daresha Kyi
An intimate portrait of Kimberly and Kai Shappley in Texas: a Christian mother rejects her community's beliefs as her 7-year-old transgender daughter navigates life at school, where she's been banned from the girls' bathroom.
The Trial (United Kingdom, US)
Director: Johanna Hamilton
Meet the lawyers tasked with defending 9/11 suspects against the US government.
ANIMATED SHORTS COMPETITION

The Coin
Director/Screenwriter: Siqi Song
In Chinese New Year holidays, finding the coin inside the dumplings means having a blessed year ahead. A young woman loses a jar on her journey to a new country, which contains the lucky coins she has been collecting growing up. Her new life begins with a search to find the coin. (World Premiere)
Facing It (United Kingdom)
Director: Sam Gainsborough, Screenwriters: Sam Gainsborough, Louisa Wood
As Sean anxiously awaits a meeting in the local pub, he is forced to explore his own unhappy memories and relationships in an evening that will that will leave him changed forever. (US Premiere)
Guaxuma (Brazil)
Director/Screenwriter: Nara Normande
Tayra and I grew up on a beach in the north east of Brazil. We were inseparable. The sea breeze brings me back happy memories.
Je sors acheter des cigarettes (France)
Director: Osman Cerfon
Jonathan, twelve years old, lives with his sister, his mother and also some men. They all have the same face and nest in closets, drawers, TV set… (North American Premiere)
Las Del Diente
Director/Screenwriter: Ana Perez Lopez
Three women discuss the social pressure of having kids while celebrating the uniqueness of their bodies during flamenco covens.
Obon (Germany)
Directors: André Hörmann, Samo (Anna Bergmann), Screenwriter: André Hörmann
Akiko Takakura survived the atomic bombing of Hiroshima – in the midst of total destruction she finds a moment of happiness.
Reneepoptosis
Director: Renee Zhan
Three Renees go on a quest to find God, who is also Renee. As they traverse the great mountains and valleys of Renee, they discover all the joys, mysteries, and sadnesses of being Renee.
Skybaby
Director: Julian Glander
Look at clouds. You're 12.
Slug Life (United Kingdom)
Director/Screenwriter: Sophie Koko Gate
Tanya has finally created the perfect sexual partner, who happens to be a beautiful giant slug. (North American Premiere)
Wild Love (France)
Directors: Paul Autric, Quentin Camus, Maryka Laudet, Léa Georges, Zoé Sottiaux, Corentin Yvergniauz
Alan and Beverly, away hiking on a romantic getaway, cause the death of a marmot without noticing it. But this incident will not stay unpunished... (US Premiere)
MIDNIGHT SHORTS

La Bête (France)
Director/Screenwriter: Filippo Meneghetti
A village far away in time and land. Nearby, in a forest thought to be haunted, a child falls into a pit. His grandfather, an old and nearly blind shepherd, tries to convince the villagers to go rescue him, facing the darkness of the night and their. (World Premiere)
Bronzed
Director/Screenwriter: Mike Egan
Neo-sun worshiper Martin prepares to appease the solar Gods with ritual human sacrifice. But first he needs a spray tan. (World Premiere)
Deep Tissue
Director/Screenwriter: Meredith Alloway
A girl orders a special massage. (World Premiere)
The Do It Up Date
Directors: Emily Ting, Andrew Barchilon, Screenwriter: Josh Fadem
Kip and Shayla go on a big date! (World Premiere)
First Kiss
Director/Screenwriter: Emily Hagins
When two anxious teens sneak away from a Halloween party to share their first kiss, they soon realize someone...or something...may be watching them.
How To Be Alone
Director/Screenwriter: Kate Trefry
One woman's simple, three-step guide to surviving a night on your own. (World Premiere)
It's Not Custard (United Kingdom)
Director/Screenwriter: Kate McCoid
Louise, a teenager suffering unrelenting acne and continual bullying, is granted a delicious revenge. (US Premiere)
Montana, GA
Director/Screenwriter: Ryan Dickie
In the middle of nowhere, three best friends grow closer when a chill vacation weekend turns supernatural. (World Premiere)
Other Side of the Box
Director: Caleb J. Phillips, Screenwriters; Caleb J. Phillips, Nick Tag
A couple receives a terrifying gift from an old friend. (US Premiere)
Right Place, Wrong Tim (United Kingdom)
Director/Screenwriter: Eros Vlahos
England's 2nd most popular sitcom 'Right Place, Wrong Tim' is besieged by bloodthirsty killer clones live on air. Starring Asa Butterfield, Ella Purnell & Adam Buxton.
The Video Store Commercial (Canada)
Directors: Cody Kennedy, Tim Rutherford, Screenwriter: Tim Rutherford
A desperate video store owner hires a crew to shoot a commercial in his shop. (World Premiere)
TEXAS SHORTS

Chicle (Gum)
Director: Lizette Barrera, Screenwriters: Lizette Barrera, Renier Murillo, Vittoria Rodriguez, Katy Atkinson, Elyssa Chapa
An ill-tempered teenager attempts to find peaceful solitude on the day of her grandfather's passing until an estranged friend pays her a visit. (World Premiere)
A Good Son
Director/Screenwriter: Suzanne Weinert
When Tommy, 75, asks his son Mike to put a Hefty bag over his head and suffocate him to death, neither believes the other will really go through with it. Until MIke's son Chris, 17, devises a plan that will satisfy both his father and grandfather. (World Premiere)
I Am Mackenzie
Director: Artemis Anastasiadou, Screenwriter: Brittany Worthington
Caught among toxic masculinity, a sequin dress and a teenage crush, a teen skater, growing up in rural Texas, will have sex for the first time in the back of their dad's truck. (World Premiere)
A Line Birds Cannot See
Director: Amy Bench
Separated from her mother at the border, a determined 12-year-old sets out across the desert with only a plastic sack, survives starvation on the streets of Ciudad Juarez, and escapes kidnappers to find her mother and a place where they can be safe. (World Premiere)
Mack Wrestles
Directors: Erin Sanger, Taylor Hess
Mack Beggs broke records and changed history when he won the Texas state title as a transgender wrestler. Now with high school ending and college on the horizon, the sports champion and national activist, must grapple with what comes next. (World Premiere)
Sweet Steel
Director/Screenwriter: Will Goss
A depressed man puts off an important task. (World Premiere)
Sweet Sweet Kink: A Collection of BDSM Stories
Director: Maggie M. Bailey
Sweet Sweet Kink takes a sweet, sweet peek into the kinky world of bondage, dominance, and sadomasochism through stories of intimate connection, consensual exploration, and deep self-reflection. (World Premiere)
Yirga
Director/Screenwriter: BB Araya
Before she can leave town for a fresh start, Yirga must get one problem out of her head. (World Premiere)
TEXAS HIGH SCHOOL SHORTS

Abby
Directors: Tyniya Perryman, Brenna Rinehart, Screenwriter: Tyniya Perryman
Being a kid can be a little lonely sometimes, but this young girl has her best friend, Abby. (World Premiere)
Astray
Director: Mystery Clemons, Screenwriters: Mystery Clemons, Shannon Angeletti
A young man stumbles upon an unexpected situation finding one in need. The two build upon their friendship after the young man helps with his situation. After the young man realizes his friend is a bad influence he gets caught up in his past. (World Premiere)
BlueInk
Directors: Miranda Potter, Jade Jess, Screenwriter: Jade Jess
A victim of human trafficking tells her story. (US Premiere)
By the Pool
Director/Screenwriter: Neo Bramlett
A high school student tells his friend about an awkward experience he had. (World Premiere)
Double Cross
Director/Screenwriter: Amiri Scrutchin
In a championship basketball game, our hero goes through a spiritual experience to gain an immense power to overpower his adversary. (World Premiere)
Fifteen
Director/Screenwriter: Louisa Baldwin
Fifteen is the story of first love for two teenage girls.
Forbidden Fruit
Director/Screenwriter: Sophia Rigg
A cat and her witch encounter a strange, sinister presence in the forest. (World Premiere)